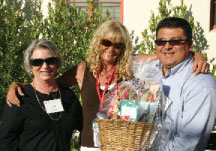 The alumni know the challenges of being a freshman away from home for the first time, and they know that their parents had questions, and possibly concerns, as they drove away leaving their first-time freshmen at Anacapa or Santa Cruz villages.
The alumni know, they've been there, and that's why the 2007 Orientation Alumni & Friends Parent Socials are important to the members of the Alumni & Friends Association. The alumni know these events help the parents get acquainted with CSUCI.
"This year we had five separate sessions for parents of incoming freshman, and about 400 people attended the socials," said Tania Garcia, associate director of Alumni Relations for CSUCI.
The social events give parents a chance to talk with CSUCI graduates, faculty, and administrators, and ask questions in a casual mixer-like atmosphere. It also gives alumni an opportunity to come to campus and give back to the campus community.
At each event, University President Richard R. Rush, Provost Ted Lucas, or Vice President of University Advancement Marty de los Cobos, and A&FA President Mike Silacci welcomed the parents to CSUCI, and then introduced a recent graduate who spoke candidly about life at CSUCI. This year's alumni speakers were Joshua Seale ('05 English), Alicia Goolsby ('07 English), Erika Butler ('03 English), Sam Hunter ('05 Art), and Anna Wan ('04 Liberal Studies).