Lagomarsinos, Others Use Planned Giving to Show Their Support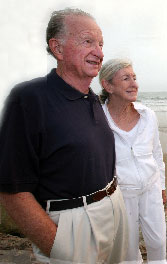 Bob and Norma Lagomarsino are among the first to participate in—and help develop—the CSUCI Foundation's opportunity for Planned Giving, which allows individuals or families to designate planned or deferred gifts through their estate to the University.

Planned Giving is an option available to anyone, but is especially appealing to those who wish to benefit the University with a financial legacy but whose property is needed during life to handle the cost of living later in life or an unexpected expense.

A planned gift, like the one the Lagomarsino's have made, helps the University grow while at the same time producing income for the donor. For example, a charitable gift annuity or a charitable remainder trust can supplement a donor's income with annual payments for the donor's life and even that of his or her beneficiaries.

It also means support for the University's areas of greatest need—which at this time have been identified as the continued development of the nursing program, faculty research and scholarly activities, the creation of an athletics program, and student scholarships—mostly come from members of the communities that surround the University. Making the option of Planned Giving available is another way to build the legacy of California State University Channel Islands.