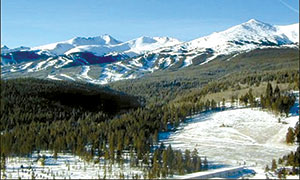 Don Rodriguez, associate professor of environmental science and resource management, worked this summer on developing a planning process for negotiating compromise regarding appropriate land use practices on and around boundaries of natural areas. The process he and a colleague developed was used to address a stalemate in the Forest Planning Process involving elected officials and land managers.
His research involved working with local governments in the Rocky Mountain region to develop a multi-jurisdictional collaborative planning process for resolving cross-boundary issues between six mountain communities and the National Forest Service. Rodriguez spent much of his time documenting the implementation of the planning process in Summit County, Colo.
Cindy Wyels, associate professor of mathematics at CSUCI, directed an intensive research program for five minority undergraduate mathematics majors this past summer. She and co-director Maggy Tomova, of Rice University, spent six weeks taking students from basic research skills-such as finding and learning how to read scholarly articles through finding and learning how to read scholarly articles through identifying open questions-to the students discovering and proving original results.  The students received a stipend and were housed on the CSUCI campus.  During the next few months, the students will give both poster and oral presentations at a variety of research conferences. 
Over the summer break, Geoff Buhl, assistant professor of mathematics at CSUCI, worked with Gizem Karaali, of Pomona College, on the structure of mathematical objects called vertex operator superalgebras.  These objects arise from String Theory in Physics and describe the interaction of strings.  Vertex operator superalgebras are intricate mathematical structures that include aspects of math disparate areas of mathematics. 
The problem that Buhl and Karaali researched involved constructing efficient descriptions of elements of vertex operator superalgebras.  Words are one way to think of these elements.  For example, there are special elements in vertex operator algebras that are like letters, they generate the words.  From that point of view, Buhl and Karaali's research attempted to answer the following questions: How many letters are needed to obtain all possible words, and what happens to the words if the number of letters started with changes?  Buhl said that he and Karaali successfully answered these questions and are currently writing their results for publication.  
This summer Luda Popenhagen, associate professor of performing arts at CSUCI, worked on a cultural studies project focusing on migrants and migration: Lithuanians in Australia, 1947-1990. Popenhagen is writing on the role played by Lithuanian migrants in the evolution of Australia's multicultural society. This project is commissioned by the Australian Lithuanian Foundation, Inc.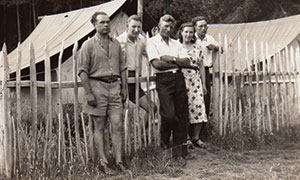 Popenhagen's sources include oral histories, memoirs, and authentic documents. Her knowledge of the Lithuanian language and her firsthand familiarity with Australian culture benefits her analysis and research. Drawing on her own international experiences, she knows very well the challenges of assimilating and integrating into a host culture while attempting to maintain one's identity.
Popenhagen is approaching this project from an interdisciplinary perspective, and is contextualizing the experiences of the Lithuanian migrants against the cultural trends prevailing in Australia and internationally at the time.