Alyssa Ervin, a CSUCI junior, spent the summer in Valentine, Texas, working for the Peregrine Fund on the Aplomado Falcon Restoration Project. Aplomado Falcons are endangered in North America.
The falcons Ervin received would arrive 45 days-old. They were then placed in a box about 12 feet from the ground and on the fifth day after their arrival the falcons would be allowed to venture on their own. Ervin's daily routine with the falcons included preparing the falcons' food of already dead quail at 6 a.m., tying the food to a tower, and observing the birds until the weather was too extreme—too hot or monsoonal rains.
"This was an experience I will never forget, and I'm sure we did our part to help the Aplomados return to the wild. In fact, our particular site in Valentine, Texas, was said to be one of, if not the most successful sites to date," Ervin said.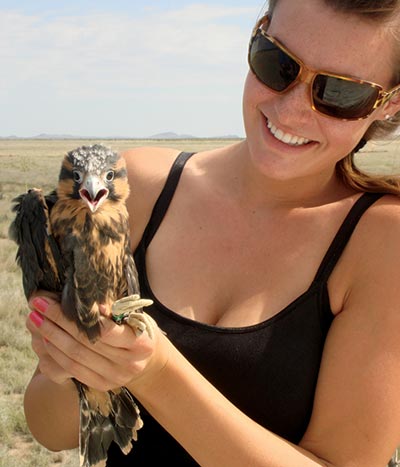 To learn more about the Aplomado Falcon and Ervin's work visit http://www.peregrinefund.org/employ_aplomado.asp