shares the 'practice of medicine is the practice of compassion' during campus visit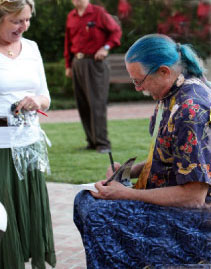 The internationally-known Patch Adams visited campus in September. Adams, a medical doctor, clown, and social activist, made four presentations during his visit—three for students during the day that drew more than 600 in total, and an evening performance that was open to the public and drew an audience of more than 475.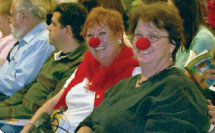 Adams is the founder and director of the Virginia-based Gesundheit Institute, a holistic medical community that has provided free medical care to its patients since 1971, and he is widely known for a movie made about his life that was titled "Patch Adams" starring Robin Williams. Adams's recent visit to campus was arranged by Alan Pasternak, psychologist and coordinator for Counseling & Psychological Services at CSUCI.
"I was trying to take an opportunity to bring someone to campus who could interact with as many students as possible, and to invite members of the community to share this experience," Pasternak said. Adams's visit coincided with a kick-off event for CSUCI's Nursing Program, and he also spoke briefly at that event.
At each of his presentations Adams spoke about his life experiences that led him to become a doctor and ultimately a social activist. He also showed the audience members at his presentations his comic side. With his pants hiked-up well above his waist, he explained that the trick is "making funny" and humor is a force to get people to do anything.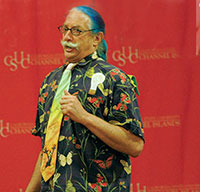 "If you only have a week to live, I'm your man. I'm fun to die with," he said to audience members at the evening event as the crowd exploded with laughter.  
Adams's presentations were charged with emotions and during his evening presentation he showed portions of a movie that was filmed while he and others were on a 'clowning trip' to a children's hospital in Afghanistan where there was no food or medication available.
"My job is to go in there and bring love to that situation" he told the audience. "The practice of medicine is the practice of compassion."
Adams is the author of "Gesundheit!" and "House Calls."