Professors Lead Summer Steinbeck Institute for High School Teachers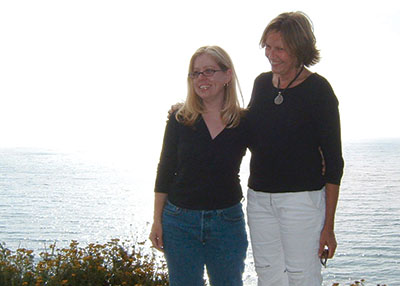 It was near the rocky, mist-covered shore of Monterey, Calif., where California State University system professors Mary Adler and Susan Shillinglaw spent two weeks with 25 high school teachers discovering new ways to interpret the writing of great American author John Steinbeck.
Nationwide, Steinbeck is the most commonly taught author in high school English curriculums after Shakespeare, primarily his novels "The Grapes of Wrath" and "Of Mice and Men." The perils suffered by the Joad family range from the red dust of Oklahoma to the fertile valleys of California; for teachers, however, enticing high school students to relate to the Joad's dust-bowl hardships in a book written more than 65 years ago is a challenge of its own.
Monterey and Pacific Grove, their twisted cypress trees hugging the rocky coast, and Salinas, with its miles of farm operations, are where Steinbeck spent the majority of his time researching and writing. Adler, assistant professor of English at CSUCI, and Shillinglaw, professor of English and director of the Center for Steinbeck Studies at  San Jose State University, knew the value of holding the Steinbeck institute, "John Steinbeck: Voice of a Region, Voice for America" in the author's former haunts would be immeasurable.
They created and co-directed the institute with funding from a grant from the National Endowment for the Humanities, which is an independent grant-making agency of the United States government dedicated to supporting research, education, preservation, and public programs in the humanities. This was the first NEH grant to be received by CSUCI and administered by a CSUCI professor.
"NEH grants are highly competitive because they are a marvelous opportunity for institutions to further the study of the humanities on a national—and even international—scale," Adler explained.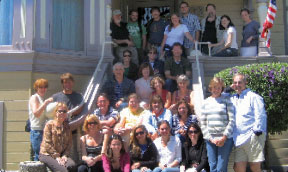 More than 400 high school teachers from across the nation submitted requests for information, and 96 applied for the institute's 25 available positions. Adler said it was difficult to narrow the field to 25 participants. It was clear to both her and Shillinglaw that each one of the educators had a passion for Steinbeck, and all were eager to develop and learn new ways for their students to relate to the author's work.
"It's hard to engage students in something like "The Grapes of Wrath" because they are used to having things come at them so fast," explained institute participant Diana (Doonie) Brewer, referring to high school students' use of the Internet, text messages, instantaneous media coverage, and entertainment. Brewer is a teacher, coach, and dorm parent at the Holderness School in New Hampshire.
Throughout the intense, two-week program the teachers spent most days from 8:45 a.m. until 9 p.m. involved in discussions, participating in teaching and writing workshops, touring relevant sites in the area, watching and discussing films, and listening to lectures on Steinbeck, his books, or topics related to his work. One of the days included a lecture by CSUCI's Renny Christopher, interim associate vice president of faculty affairs, titled: "The Grapes of Wrath: Working Class Voices in Steinbeck."
Christopher's talk challenged the participants to consider poignant questions about class raised by Steinbeck's work. She asked them to consider why a book about poor people—"The
Grapes of Wrath"—hit the bestseller list:  Was it that the novel was artfully constructed, or was it because people who didn't have college degrees could read it and relate?

It was through presentations like these that the 25 teachers gained additional perspectives to use beyond conventional methods like assigning students to read a chapter and write a summary. For example, several teachers developed lessons using performance pedagogy, incorporating chamber theater techniques into the study of "Of Mice and Men." Others learned about ways to ask students about civic engagement and what that might have meant to Steinbeck's characters of "In Dubious Battle," which was a novel about migratory workers in California's apple-country rising up against the landowners.
The institute wasn't all presentations and workshops; Adler and Shillinglaw planned several field trips to places like Steinbeck's house in Salinas and his family cottage in Pacific Grove. In what turned out to be a powerful experience, the group also visited the agriculture fields that often appear in Steinbeck's work.
"How much better did we know their [Steinbeck's characters] experience by actually picking the strawberries instead of just seeing a slide with a picture of strawberries?" asked institute participant Bradley McMurray, a National Board Certified teacher of art, who lives in Venice, Fla. McMurray's comment sparked a discussion about the importance of using hands-on experience to engage students.
The two-week institute closed with a curriculum development workshop led by Adler and Debora Stonich, of Lovejoy Independent School District in Texas. The teachers used this time to reflect on and apply what they had learned about Steinbeck's life and work. They created innovative lesson plans that will shortly be published on the Institute website https://steinbeck.stanford.edu/ for teachers from throughout the nation to use.
After her two weeks with the group in Monterey and the months of preparation she and Shillinglaw clocked organizing the institute, Adler said the institute was thrilling and those who participated were an amazing group of people.
"Not only have I had my own teaching invigorated, but I have gained new appreciation for the power of Steinbeck to speak for those whose voices are still marginalized in our society. His great regard for the land and its people is more important now than ever," Adler said.