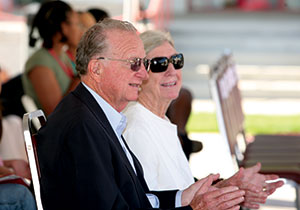 There were five Island View Orientation sessions held this summer, and at one session first-time freshmen along with their parents and guests were part of the dedication of a time capsule. Following its dedication, the time capsule was placed in the new John Spoor Broome Library.
"The plan is that we will open it up in about 20 years," said University President Richard R. Rush.
During his comments about the time capsule, Rush acknowledged former Congressman Robert "Bob" Lagomarsino, and his wife Norma, who were in attendance for the time capsule dedication ceremony. When Bob Lagomarsino was a California state senator in 1965, he wrote the legislation to establish a four-year, public university in Ventura County. The Lagomarsinos have since been avid supporters of the University.
The time capsule is a large metal, water-proof box filled with CSUCI memorabilia highlighting the beginnings of the University's history including the past five years.
Following his words about the time capsule and the history of CSUCI, the President spoke to the new students about the importance of being part of the campus culture through activities in addition to academics.
"If we don't have the club you want, create it," Rush said. "Part of the CI experience is that kind of innovative, pioneering spirit."
Exactly 526 first-time freshmen and 576 upper-division transfer students joined the CSUCI family this fall. Many reside in Santa Cruz Village, the new residence hall on campus. CSUCI has 3,599 students enrolled for the fall 2007 semester.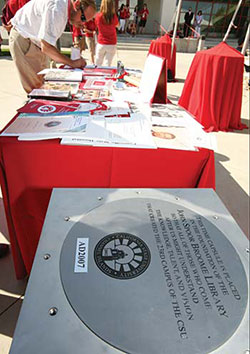 The time capsule, shown here, is a large metal container that was placed in the John Spoor Broome Library, and will be opened in 2027.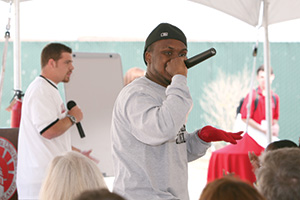 Cris Powell, left, and Jeffery Alexander, right,
welcome new students with a Channel Islands rap
during Island View Orientation.