Sailing Launched as CSUCI's First Club Sport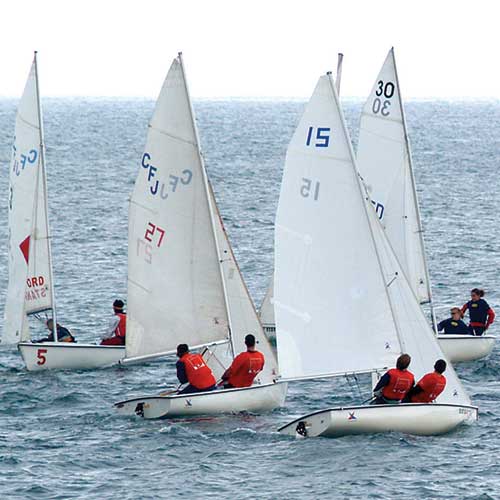 The three-minute warning whistle blows and countdown to the start of the race begins. Onboard one of the 20 sailboats jockeying for a starting position are two California State University Channel Islands students.
With two minutes to the start another warning whistle is blown and the skipper and crew of the CSUCI boat sail the length of nearly a 270-foot starting line. It looks like a chaotic mess of white sails, white fiber-glass boats, and churned-up, choppy seawater.
The short, sharp whistle blasts counting down the last five seconds before the start garner a Pavlovian-like response from the 20 boats: they all find an open space on the starting line, the bows of their boats are mostly pointed in the same direction, and they all cross the start-line just after the start whistle blows.
Welcome to starting a dinghy race with CSUCI Sailing—the first official club sport at Cal State Channel Islands to compete at an intercollegiate level.
"Some of us have a background in sailing and some of us are new to the sport," said CSUCI senior Austin Dias, co-founder and president of the CSUCI Sailing club. "And we're on the starting line and competing with some of the top ranking schools on the West Coast like Stanford, USC and UCLA."
Sailing is a club sport at CSUCI, which means it is a student-run organization that is guided by rules and regulations established by the University's Division of Student Affairs. At some universities sailing is a varsity sport; however, collegiate sailing is not a sport governed by the National Collegiate Athletic Association (NCAA). Instead, competitions are governed by the Inter-Collegiate Sailing Association (ICSA).
CSUCI Sailing earned its club sport status in late February of 2007, the tail-end of the ICSA season. Yet, there was enough of the season left for the student sailors to compete in four separate regattas. The CSUCI Sailing Club is back again this fall and is competing with its newly purchased Club Flying Junior dinghies. The club's first regatta was held in early October at a regatta hosted by the University of California Berkeley in the San Francisco Bay area.
The club has 15 members on its roster, and though competing is not a requirement for club membership, nearly all of them raced in at least one regatta in the spring 2007 season. Some members have a résumé filled with races they competed in before arriving at CSUCI, while others had their first sailing experience at CSUCI and fell in love with the sport.
So what's so appealing about sailing a 13-foot 3-inch dinghy that probably won't ever go much faster than 10 knots.
"I promise that you'll have more fun sailing with some waves and 15 knots of breeze than you'll probably have in a power boat with those conditions," explained Nick de Roulhac.
To clarify, 15 knots of wind is equal to 17.3 miles per hour. And when you add some waves with that wind, the boat—when it's going with the wind—is able to surf and go even faster, which according to several of the CSUCI sailors is "a total rush."
It sounds like a lot to learn: sailing around with a slew of other boats on a starting line, trying to listen for warning whistles, and then getting the dinghy into a place on the line just in time for the start. All of that was just the start of the race. However, Dias said seeing members of the club develop skills and become more and more competitive has made all the hard work to create and organize sailing as a club sport at CSUCI worth it.
The CSUCI Sailing Club will compete in regattas held between now and January in locations from Hawaii all the way up to Stanford's home port near Palo Alto. Dias and the other club officers hope that their work (and competitive fun) on establishing the sailing club will attract potential student sailors to attend CSUCI.
"There are a lot of great high school sailors in this area and all over the state. Us being out there is another way for our University to have face-time with them and show them what CSUCI is all about," Dias said.