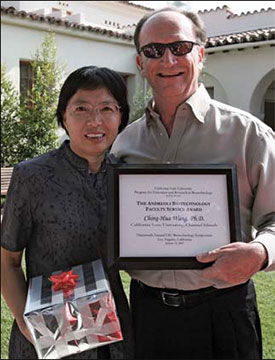 In early spring, Professor Ching-Hua Wang was named the recipient of the 2007 CSU Program for Education and Research in Biotechnology (CSUPERB) Andreoli Biotechnology Service Award.
This award honors CSU faculty members who have made outstanding contributions to the development of biotechnology in the California State University. The first recipient of this award was named in 1992.
University President Richard R. Rush held a reception in the President's Courtyard in May to honor Wang and present her with the award, a specially engraved gimbal box clock.
Wang is the chair of the Biology Program, director of the Biotechnology and Bioinformatics Master's Program, and Biotechnology and MBA Dual Degree Program. She is one of the 13 original faculty members at CSUCI.
The award is named after Dr. A. Andreoli (Cal State, LA) who had high expectations for everyone, especially students and colleagues. Andreoli was committed to his students and to the idea that the CSU has a special role to play in higher education by providing opportunities to a large population of non-traditional students who otherwise would have fewer options for advancement.