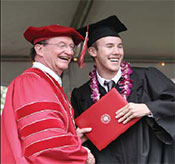 Class of 2007, Members of CSUCI's Inaugural Freshman Class Celebrated At Commencement Ceremony
The morning was charged with an energy that can be likened to the enthusiasm of a freshman student and satisfaction of a senior turning in his last bluebook. That positive feeling is the energy that drives individuals to accomplish their goals, and, on this day, begin the next chapter of their lives. Family and friends made up an audience of more than 7,500 at the California State University Channel Islands 2007 Commencement ceremony. Those gathered in the University's South Quad for the special day filled the air with blinking camera flashes as the degree candidates were ushered to their seats by the classic graduation melody of Pomp and Circumstance.

Firsts are not uncommon at the newest campus in the California State University system, and CSUCI's 2007 Commencement was no exception. More than 650 graduates shook hands with University President Richard R. Rush as their names were announced, and among the graduates were members of CSUCI's Inaugural Freshman Class.
"How proud you must be as pioneers whose paths others will follow," said CSU Trustee Carol Chandler in her address. Chandler, former Congressman Robert Lagomarsino—who sponsored legislation in the 1960s that allowed for the development of a four-year public university in Ventura County—and his wife Norma, and Jack Broome—benefactor of the University's new library—were among special guests at this year's ceremony.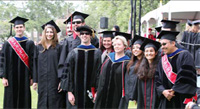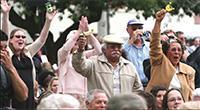 Referring to members of the Inaugural Freshman Class and all graduates of CSUCI, President Rush and both keynote student speakers spoke about the pioneering spirit that pervades at this University.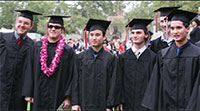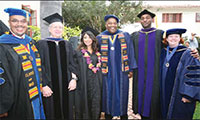 "The perseverance that all our graduating students today have demonstrated at Cal State Channel Islands will serve you well as you go on to the next expedition or adventure in your lives," Rush said while looking out over the sea of black mortarboards and gowns. 


Before the master's degree candidates were hooded, and before Theodore D. Lucas, Provost and Vice President for Academic Affairs, gave the charge to the bachelor's degree graduates to move their tassels from right to left to signify their joining of the ranks of university-educated men and women, two members of the Inaugural Freshman Class addressed the Class of 2007.

"When each of us enrolled at California State University Channel Islands, we embarked on an educational journey where there was no path or sophomores to follow," said Jessica LaRoe, one of the student keynote speakers. "There simply was faith in all who were here at CSUCI, that they would be able to help us to fulfill our dreams and blaze our own trails."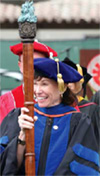 Of the more than 925 degree candidates who were eligible to commence at the 2007 ceremony, approximately 100 were members of the Inaugural Freshman Class. LaRoe is a member of that group and she spent her time at the University engrossed by her studies—she graduated majoring in business with minors in psychology and economics—and serving as president of Associated Students Inc. and Student Government.
Continuing to illustrate the pioneering spirit of those have chosen to earn their undergraduate and graduate degrees from Cal State Channel Islands, Tamara Gershater, also a member of the Inaugural Freshman Class, took her turn at the lectern and addressed her classmates.
"We are leaving here today with educated minds and bright futures…challenge yourself to be part of the solution," Gershater said to her classmates.

While at CSUCI, Gershater was one of the first resident assistants in the student residence hall—Anacapa Village, she also was a member of ASI, an orientation leader, and a peer advisor in Academic Advising. Gershater earned her degree in English with an emphasis in education and will be attending graduate school at the University of California Davis in the fall.

The energy that filled the University's South Quad at the 2007 Commencement ceremony was reflected in the emotion and excitement of Gershater's voice as she delivered the final words of her address. She captured the overwhelming feeling of satisfaction and gratification that emanated from the graduates, their families and friends, and the University's faculty and staff, when she exclaimed: "Congratulations Class of 2007, we are done!"