The Organization and Leadership Awards for Students (O.L.A.S.) were presented by the area of Student Life within the Division of Student Affairs at a ceremony held in April. Approximately 110 students, faculty, and staff attended the awards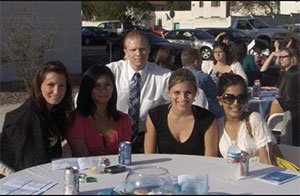 The Nine Dimensions of Development Awards:
Anneka Busse was honored with the Values and Integrity award for exploring predetermined beliefs and clarifying personal values; The Expression award was given to Alex "Violet" Barroso. This award recognizes an individual's awareness of different flavors and intensity of emotions and appropriate channels for expression of emotions; Cris Powell earned the Health award for the promotion of physical wellness and healthy living; The Intellectual award went to Marissa Allen for expanding subject matter knowledge and developing a collection of skills to comprehend, analyze and synthesize; Victoria Olvera was recognized with the Intra/Interpersonal award for awareness and comfort with self-acceptance and contributing positively to healthy relationships; The Citizenship award recipient was Rachael Jordan for her work of finding a place in the larger whole and preserving and enhancing it for the next inhabitants; Taylor Marta was honored with the Creativity award for her appreciation and understanding of art and creative expression; The Cultural award for development of a strong sense of self while recognizing, understanding, and appreciating differences was given to Brian McAleney; Austin Dias was honored with the Life and Career Planning award for his goals and making future life and career plans.
The Excellence in Leadership Award:
Jeremy Booker was honored with the Outstanding First Year Leader award for his academic success, involvement in service activities on campus and in the surrounding community, and demonstrated growth in the nine dimensions of development.
The Student Group Awards:
The CSUCI Sailing Club received the Promise Award for its potential to make a difference and contribution to the leadership development of its club members; The Student Programming Board was honored with the Outstanding Student Organization award for its contribution through sponsoring events and activities; Lisa Racine, a staff member at CSUCI, was presented with the Outstanding Advisor award for going above and beyond her professional duties to serve a student organization.
The O.L.A.S. Event Awards:
Outstanding Collaborative Event award went to 'RAIN Project' organized by Housing and Residential Education and Gamma Beta Phi; Outstanding Co-Curricular Event award honored 'The Uncanny Project' organized by Eric Eiser; Outstanding Service Project award was given to Sara Parker for her work on the 'Prom Dresses For All Princesses' event; Outstanding Dolphin Tradition award recipient was the 'Clothesline Project' organized by Marissa Allen; Outstanding Diversity Education Project honored the work accomplished by 'Project A' organized by Rachael Jordan.
Additional Awards:
University President Richard R. Rush was honored with the Dimensional Distinction Award; Wm. Gregory Sawyer, Vice President for Student Affairs, was honored with the Dimensional Legacy Award.