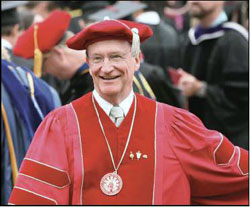 Milestones Marked at CSUCI
At this year's Commencement ceremony, we reached yet another significant milestone-the graduation of our Inaugural Freshman Class 2003/2007. Like California's early explorers seeking a land of promise, four years ago these students came here to explore a new university. Their time here has been one likened to an expedition of knowledge and voyage of discovery. They came here not knowing what to expect, but rather seeking an ultimate frontier where new values, behaviors, and knowledge could be pioneered and whose paths others will follow.
Overall, more than 650 students participated in our ceremony with nearly 7,500 guests in attendance celebrating the achievements of our students and the realization of their dreams of earning college degrees.

The perseverance that all our graduating students have demonstrated at Cal State Channel Islands will serve them well as they pursue the next expedition or adventure in their lives. Many of our students are going on to graduate schools or entering the workforce with the tools and skills needed to succeed in today's changing world.

As you will read in the pages that follow, our outstanding faculty and engaged students are being recognized throughout the region and state for their research and academic
accomplishments. Through their accomplishments and those of our entire campus community, we will continue our passionate commitment to an education of excellence and a path towards achieving great milestones in the history of Cal State Channel Islands!