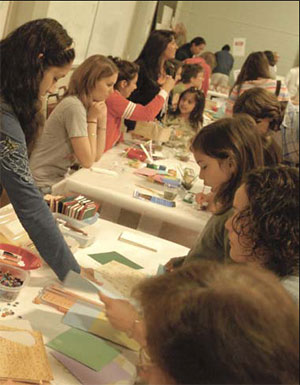 The University Library hosted its Second Annual Children's Reading Celebration & Young Author's Fair in April. This event celebrates literacy, children's literature and reading, and is a community outreach event for the University Library.
More than 300 children and parents attended the event that featured presentations and book signings by authors Greg Trine and Lisze Bechtold. Additionally, there were storytelling nooks where children listened to stories told to them by California State University Channel Islands students from the English Program. There were also bookmaking tables where children created their own books, and there was a handson painted art activity created by Santa Monica-based artist Peter Tigler. Hundreds of books written by local area school children were on display as part of the Ventura County Reading Association's Young Author's Fair.
Attendance at this year's event was triple that of last year's. The event is an interdisciplinary outreach event for the library with participation from the English Program and University Outreach on campus, as well as community partnerships with the Ventura County Reading Association, the STAR in Education Foundation and the Ventura County Office of Education.