The academic and scholastic achievements of the University's students are highlighted each year at the Honors Convocation ceremony.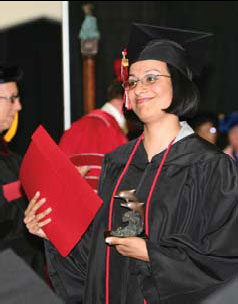 This year 127 students were recognized for maintaining a grade point average of 3.50 or higher. Among those students were those who earned Summa Cum Laude (3.90 to 4.00) honors. The following students were named Summa Cum Laude candidates: Aline Baca, Carolyn Boyd, Kovilanie Chainee, Carla Doerr, Arrate Garcia, Lisa Mancini, Jadwiga Otto, Jessica Soliz, Halina Szlykowicz, Rebecca Tice, and Shirley Wandzura.  
There were 27 students named Magna Cum Laude (3.75 to 3.89) candidates, and 89 were recognized as Cum Laude (3.50-3.74) candidates.
Honors Convocation includes recognition of students who have gone above academically, scholastically, and given of their time and talent in service to the campus community and surrounding communities. The Silver Dolphin Award was created five years ago to honor the University's top student leader. This year there were two honored with the Silver Dolphin Award, Chelsee Bente and Jessica LaRoe.
Other awards given were the University's second annual Mission-Based Awards, Who's Who Among Students, and Program Honors.