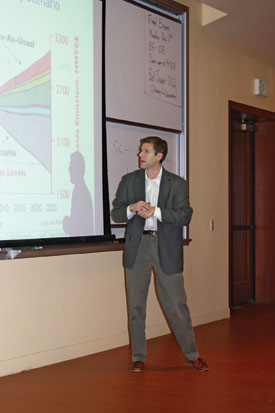 A recent symposium hosted by the University's Biology Program examined the many central reasons why alternative energies are important.
Among the topics discussed were: U.S. dependency on foreign oil, the rising cost of oil, and the billions of tons of byproducts released into the atmosphere each year due to fossil fuel use.

Speakers at the "Go Beyond Petroleum: Plant Biotechnology and Alternative Fuels" symposium addressed increased energy efficiency as a solution to the country s current reliance on oil, and development of specific crops to be used as fuel.
According to Daniel Kammen, a professor at the University of California Berkeley and a speaker at the symposium, the fastest way of slowing down the amount of the byproducts that are produced by consuming fossil fuels (oil and coal) is to start with energy efficiency.
Also speaking at the event was Michael R. Peevey, president of the California Public Utilities Commission; Amy Denton, assistant professor of Biology at CSUCI; Ruihong Zhang a professor in the Department of Biological and Agricultural Engineering at the University of California Davis; and Spencer Swayze, manager of business development at Ceres - a plant biotechnology company.
This was the fourth science symposium of this type hosted at the University. Past symposium topics included, "Stem Cells: From Here to Eternity," "The Biology of Fat, " and "Invaders of the Human Body." These symposia dealt with issues in stem cell technology and its implications, obesity epidemic in this country and avian influenza and other infectious diseases in the world.
Spring Symposium Set
Genomics will be the topic of a symposium hosted by the Cal State Channel Islands Biology Program from 12:30 to 5:30 p.m. on April 20 at the science auditorium in Aliso Hall. Genomics is the study of all the genes in the body, and how those genes affect the individual's wellness, behaviors, and capabilities.

Several perspectives on the subject of genomics will be represented at the symposium. Speakers will address the application of genomics to the understanding of human disease and environmental issues. An overview of the latest technology in the field also will be presented, and the ethical and societal issues this technology raises will be discussed. The symposium will be free and open to students, faculty, staff and the community.