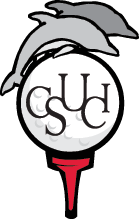 The 2007 CSUCI Dolphin Classic Golf Tournament is set for June 18 at Las Posas Country Club in Camarillo.
This is the second year the tournament will be held to raise funds in support of establishing an intercollegiate athletics program, which President Richard Rush has indicated is a priority for the young University.
The Dolphin Classic will use two different scoring formats. Competitive golfers will use a point-par system from the "blue" tees, while for those whose handicaps are more recreational, a team Callaway score will be compiled.
"The result will be eight first place winners, all eligible to compete in the grand finale Million Dollar Shootout on the beautiful ninth hole at Las Posas Country Club," said Cindy Wolfsohn, chair of the golf tournament and member of the University Foundation Board.
The Million Dollar Shootout takes the players from the winning teams to participate in a hole-in-one contest following the tournament. If one of the golfers makes the hundred-plus yard shot, he or she wins $1 million.
Companies and individuals interested in sponsoring or playing in the 2007 Dolphin Classic should contact Mitchel Sloan, director of University Affairs, 805-437-8916.