Ventura's Voters Making a Difference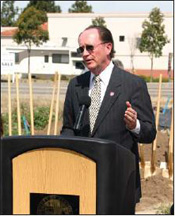 On the campuses of even the most established colleges in this country, there exists a wish list - a perpetual index of items that if funded would enhance the University's appearance, prestige, and provide the most up-to-date technology for use by the students and faculty. Through much hard work, many items eventually become reality, and are quickly replaced on the list by the newest wishes.

As a relatively new University, our wish list is more of a needs list; some might call it a critical needs list. As a young institution, located on an aging campus, with many buildings more than 70 years old, there is much that needs to occur to bring the campus up to 21st century educational standards.

As a result of voters throughout Ventura County and the state passing Proposition 1D on the November ballot, I am pleased to share with you that we are receiving significant funding to address some of our most critical needs.

I want to thank personally the student leadership, faculty, staff and friends of CSUCI who carried the message forward that approval of this ballot measure would result in nearly $62 million dollars, being directed to our young campus.

And special thanks also to the Chancellor's Office of CSU where it was determined that such a significant amount of the CSU allocation would come here to CSUCI to meet our most pressing needs.

Yes, this funding is extremely timely, and you will read about the various projects that are already getting underway through our Operations, Planning and Construction office.

Though they may appear to be just bricks and mortar, these projects represent the needed environment for classrooms, labs, and technology that will provide our students with many of the tools they need to succeed.

So, thank you again for all of your continuing efforts in support of CSUCI.