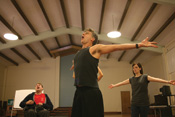 Performance artist Tim Miller recently spent a week at California State University Channel Islands leading students in an intense performance workshop. The workshop yielded "Bodies and Other Hills on Campus," a piece written and performed by three CSUCI students - Sarah Kinney, Kellie McGuire, and Dolores Patno; as well as Catherine Burriss, assistant professor of Performing Arts, and volunteer Elaine Tse. They performed for fellow students and members of the campus community.
Miller is an internationally acclaimed performance artist whose work as a performer and writer explores his artistic, spiritual, and political identity as a gay man. While on campus he performed his solo piece "Glory Box." Nearly 100 students, faculty, staff and community members attended the performance, which focuses on same-sex marriage and the struggle for immigration rights for lesbian and gay binational couples.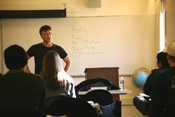 Along with the performance and workshop during his time on campus, Miller visited various classes. He taught students in a performing arts class about finding their performing voices, and shared his experiences of managing performance spaces with students enrolled in a course titled "Business and Performing Arts."