Students Spend the Year Studying Abroad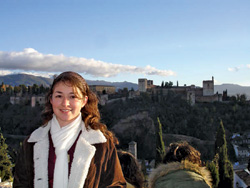 Five students, three countries, and one year. Sounds like the makings of a great reality television series. It is actually reality for five California State University Channel Islands students, albeit without the TV cameras and 30-second prime-time teasers.
Meet John (bottom-left), Chris (middle-right), Ariana (left) , and Monica, four of five CSUCI students spending the 2006-2007 academic year studying abroad. They are participating in the California State University's International Programs, which is a systemwide opportunity for students to spend a year (and sometimes more) studying abroad while earning academic credit toward their CSU degrees.
"Since I was in high school, I knew that I wanted to study abroad in Europe," said John Bickford, a junior majoring in economics.
Bickford is attending Kingston University in the United Kingdom. It is located in the Royal Borough of Kingston Upon Thames, which for short he explains is called "Kingston" and says that Kingston's proximity to London is a lot like that of Hollywood to Los Angeles.
There are differences between American and British universities, Bickford said. At universities in the UK, often only a few tests and a paper determine a student's grade for an entire class, unlike in the U.S. where there are quizzes and small papers throughout the year that contribute to the student's final grade.
"Before they leave, we tell students that it's going to be different, and an excellent opportunity to learn about their academic field from a completely new perspective," said Marisa Thigpen, associate director of CSU Channel Islands' Center for International Affairs.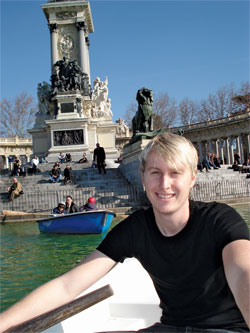 Chris Hoffmann also found some of those differences during his first "semester" at the University of Bristol, in the United Kingdom, where he is studying political science. Hoffmann said there aren't the general education requirements for students in the UK, like there are at other universities in the United States, or the emphasis on interdisciplinary studies that is so prevalent at CSUCI, so a political science student in the UK is likely to have focused just on political science courses for his or her entire period of study at the university.
"Studying abroad has been an amazing experience so far," Hoffmann said. "I knew that the British system was different and wanted to prove to myself that I could be successful in academia, no matter what part of the world I was in.
" Ariana Luquín-Sánchez has always been interested in Spanish culture, art and music. She first heard about the study abroad program when she was a freshman and after that she said, "The idea of going abroad to study never left my mind."
For Luquín-Sánchez, a senior majoring in Spanish, Granada, Spain is now home -- at least for this year. She is taking five classes at the University of Granada, two of which are intense lectures. Luquín-Sánchez says she enjoys the two lectures because it is an opportunity to be in what she calls a "Spanish classroom environment" and is a window on how education works in Spain.
Thigpen says what Hoffmann, Bickford and Luquín-Sánchez are experiencing is one of the great advantages of studying abroad: learning how different countries approach teaching various fields of study.
Academics is the obvious focal point of the study abroad program -- hence the "study" part -- but about that "abroad" part--any anxieties Bickford, Hoffmann or Luquín-Sánchez might have had about being thousands of miles from home already have faded away.
Both Bickford and Hoffmann have discovered a great benefit of studying abroad: travel. Bickford likes to venture from Kingston two to three times per month visiting various cities in the UK and surrounding countries such as the Netherlands and Italy. Hoffmann spent the holiday break taking in the sights in Amsterdam, Paris, Barcelona, Madrid, Granada and Malaga.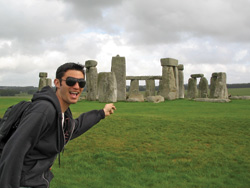 However, Monica Cubos is a bit nervous when it comes to continent hopping. She leaves on Feb. 14 to study at Macquarie University in Sydney, Australia.
"I've never traveled this far from home for so long," Cubos said. "If I was far from home, I've always been able to at least drive home."
Cubos is a junior majoring in psychology. She said she has always wanted to travel and decided the study abroad program would be the best way to see the world and experience new things.
Once she arrives in Sydney, Cubos will begin her studies and start to experience what her fellow CSUCI students have been enjoying -- the history, sights, and culture of the countries in which they chose to take-up temporary residence.
"I have mixed feelings about leaving. I think the part that scares me the most is that I don't know anybody else who is going and I'll be totally on my own," she said. "But I know I'm going to be having the time of my life."
CSUCI's Study Abroad Program
The study abroad program is part of the California State University's International Programs. More than 50 universities in 19 countries partner with the CSU to provide students the academic and cultural experience of studying abroad, which supports CSUCI's mission to "graduate students with multicultural and international perspectives."
Students who study abroad earn CSUCI resident credit toward graduation requirements, pay regular CSUCI tuition, and can apply their financial aid directly to the cost of the program. Students who study abroad are given registration priority, which gives them access to courses that might not be available at Cal State Channel Islands.
Informational meetings are hosted on Cal State Channel Islands campus throughout the year. Students must apply and meet academic eligibility requirements to be considered for this program.
Check out CSUCI's International Programs.