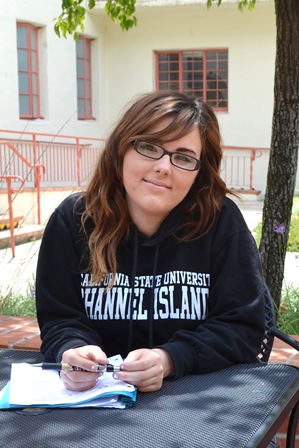 Camarillo, Calif., Oct. 2, 2013 – CSU Channel Islands (CI) sophomore Annie Alward is the recipient of a prestigious 2013 CSU Trustees' Award for Outstanding Achievement. The Trustees' Awards are among the highest student distinctions within the university and are accompanied by scholarships of $3,000 to $10,000. Presented to one student at each of the 23 CSU campuses annually, the awards salute exemplary student scholars and humanitarians who have overcome significant adversity on their paths to higher education. Alward received a $6,000 CSU Board of Governor's Foundation Scholarship on the special recommendation of the CSU Foundation selection committee.
"This scholarship means so much to me because, without it, I probably would not be able to attend a state school without working full-time," Alward said. "It means I am much closer to achieving my goals of getting into an RN (registered nursing) program and giving back to the community that has helped me and taught me kindness."
Alward, a 19-year-old double-majoring in nursing and biology, was born to a drug-addicted mother and lived a transient life with her father and brother until being placed in foster care at the age of 13. Despite the ongoing disruptions in her home life, she was resolute in her goal to go to college and become a nurse. Alward immersed herself in school, taking Advanced Placement classes; earning a 3.6 GPA; participating in student government, varsity softball and cheerleading; managing the football team; volunteering as a tutor; and working at times to help pay the rent. Known for her outgoing nature and positive attitude, she was voted "Eternal Optimist" by her senior class at San Mateo High School.
"I believe everyone has a story, and that story shapes us," she said. "We are all born with equal potential, but how we use that potential is what decides our future. Not the environment we live in or the people in our life. My own hardships have made me realize that patience is key and everyone has the ability to better their lives."
Alward chose CI because of its renowned nursing program, small classes, and friendly, supportive campus community. A member of CI's Equal Opportunity Program (EOP), which recruits and assists motivated students with limited college opportunities, Alward maintains a 3.7 GPA, volunteers at homeless shelters, and tutors at-risk children. She recently completed her Certified Nursing Assistant program and hopes to begin working or interning at a local hospital. Her career goal is to become a registered nurse caring for hospice, military or veteran patients.
"Ms. Alward has unparalleled enthusiasm for education; she looks beyond herself to contribute the personal growth and development of others and serves as a constant inspiration to family and friends," said CI President Richard R. Rush, who nominated Alward for the award. "Her contributions to CI have yet to be fully realized, but I can say that in her short time on campus, Ms. Alward has had an impact on fellow students and professors and inspired and enriched the lives of many."
Alward and the other 22 awardees were recognized at a reception with the CSU Board of Trustees and CSU Foundation Board of Governors on Tuesday, Sept. 24, at CSU Long Beach. She was also able to meet and personally thank the sponsors of her award, Ronald Barhorst, former president and CEO of ING Financial Advisers and current chair of the CSU Foundation Board of Governors, and his wife, Mitzi. All of the students also received a laptop package worth $1,200 from Sony.
The CSU Trustees' Award program began nearly three decades ago with scholarships endowed by the William Randolph Hearst Foundation and has expanded over the years due to the generous support of trustees, faculty, staff and friends of the university. For bios on all 23 scholars, as well as donor information, please visit calstate.edu/foundation/trusteesawards. 
# # #
About California State University Channel Islands
CSU Channel Islands (CI) is the only four-year, public university in Ventura County and is known for its interdisciplinary, multicultural and international perspectives, and its emphasis on experiential and service learning. CI's strong academic programs focus on business, sciences, liberal studies, teaching credentials, and innovative master's degrees. Students benefit from individual attention, up-to-date technology, and classroom instruction augmented by outstanding faculty research. CI has been designated by the U.S. Department of Education as a Hispanic-Serving Institution and is committed to serving students of all backgrounds from the region and beyond. Connect with and learn more by visiting CI's Social Media.