Camarillo, Calif., Oct. 22, 2013 – CSU Channel Islands (CI) will present "Media Revolutions – A Performer's Discussion" on Monday Oct. 28, from 3 to 5 p.m. in the Grand Salon on the CI campus.  The two-hour forum will feature Azie Mira Dungey and Karla Mosley, two rising stars in film and television, who will share their experiences and work to redefine images of African American women in the media. Sponsored by CI's School of Arts & Sciences and Division of Student Affairs, the event is intended to bring CI students, the community and the performers together for a candid discussion about challenging racial stereotypes and promoting positive multicultural images in the media and entertainment industry.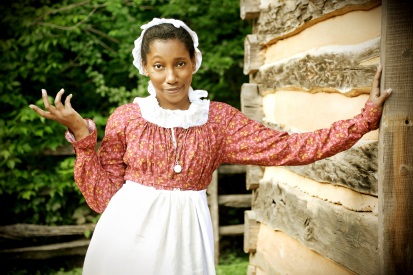 Dungey is the creator, writer and star of "Ask A Slave," a critically acclaimed original Web comedy series based on her experiences portraying a housemaid at George Washington's former home, Mount Vernon.  In the show's first week, it generated 500,000 hits, and it ended its first season with more than 1 million hits and over 40,000 subscribers.  The series garnered positive reviews from NPR, BBC, New York magazine, New York Daily News, and L.A. Weekly, which called Dungey "a talented comedian with a killer deadpan."  Dungey, a writer, actress and comedian, graduated from NYU's Tisch School of the Arts and has starred in roles in theatre, film and television.  Learn more at www.askaslave.com or www.aziemiradungey.com.

Mosley may be best-known for her roles on daytime television as Maya Avant on "The Bold and the Beautiful" and Christina on "Guiding Light," but she's also earned rave reviews for her

performances in theatre, film and television.  Her film credits include "Men in Black 3," "Burn After Reading," and "For the Love of Film."  Her TV credits include "Gossip Girl," "Law & Order: CI," TLC-Discovery Kids' "Hi-5," and the Web series "Room8," a spin-off of "The Bold and the Beautiful" that she co-created and co-wrote for cbs.com.  Her performances in musical theatre have earned accolades from the New York Times, Variety, and Time Out New York.  A graduate of NYU's Tisch School of the Arts, Mosley is an active advocate for the homeless, runaway youth, and marriage equality.  Learn more at http://karlamosley.com/.
Limited parking is available on campus with the purchase of a $6 daily permit; follow signs to the parking permit dispensers.  Free parking is available at the Camarillo Metrolink Station/Lewis Road parking lot in Camarillo with bus service to and from the campus.  Riders should board the CI Vista Bus to the campus; the cash-only fare is $1.25 each way.  Buses arrive and depart from the Camarillo Metrolink Station every 30 minutes, Monday through Friday.  For exact times, check the schedule at www.goventura.org.
For additional information contact Jodi Delmonte, Arts & Sciences Support Assistant at 805-437-3517 or jodi.delmonte@csuci.edu.
# # #
About California State University Channel Islands
CSU Channel Islands (CI) is the only four-year, public university in Ventura County and is known for its interdisciplinary, multicultural and international perspectives, and its emphasis on experiential and service learning. CI's strong academic programs focus on business, sciences, liberal studies, teaching credentials, and innovative master's degrees. Students benefit from individual attention, up-to-date technology, and classroom instruction augmented by outstanding faculty research. CI has been designated by the U.S. Department of Education as a Hispanic-Serving Institution and is committed to serving students of all backgrounds from the region and beyond. Connect with and learn more by visiting CI's Social Media.