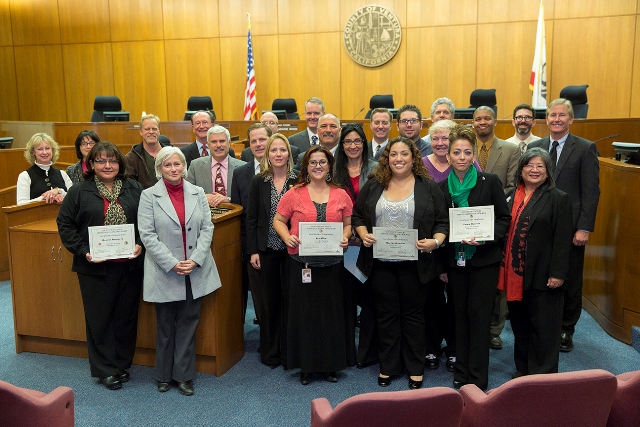 Camarillo, Calif., Dec. 16, 2013 – As part of CSU Channel Islands' (CI) Organizational Effectiveness Program, launched by the University's Division of Business & Financial Affairs, the newest crop of Lean Six Sigma Green Belts has graduated from the County of Ventura's Lean Six Sigma training last week, with nine CI employees becoming process improvement facilitators, spreading renewed business efficiency and effectiveness techniques to their campus colleagues.
Teaming up with County of Ventura's Service Excellence Office last year has enabled the training of more than 125 of CI's employees, resulting in more than $90,000 in operational efficiencies, while at the same time igniting a deeper culture of continuous improvement.  Successes include improvements in events planning, business support service operations, and organizational functions.
"The more I have learned about this program, the more excited I am about it," said Executive Analyst to the President Melissa Remotti, one of the new Green Belts.  "It allows us to look at processes that span across the University with a critical eye. The more we can streamline administrative processes, the more funds we can devote directly to student and academic programs."
Lean Six Sigma is an organizational development model that seeks to maximize value while eliminating waste in processes by systematically applying scientific principles.  In a four-day professional development course taught by the County of Ventura's Service Excellence Office, participants learn state-of-the-art process improvement skills, identify a project, and begin using Lean principles to help their organization maximize performance.
The County of Ventura introduced the Lean program to its workforce in 2008 as a way of encouraging a countywide culture of service excellence, continuous improvement and empirically based decision-making as a means of improving the quality, consistency, speed and cost of county services. Over the past five years, the county has trained more than 3,150 employees, realized more than $21 million in savings, and been heralded as a statewide and national example of effective process improvement.
"Lean is a powerful tool for empowering our employees and improving services that have the greatest impact on citizens," said Mike Powers, CEO of Ventura County.  "The desire to continuously improve is deeply embedded in our culture and we are pleased to share it with CI.  The more we collaborate across the county, the better we can be at strengthening our economic outlook and quality of life."
A serendipitous meeting between Powers and Pamela Abbott-Mouchou, CI's Organizational Effectiveness Officer, during a 2012 Ventura County Leadership Academy discussion panel sparked the beginning of a partnership.  The program was endorsed by Ysabel Trinidad, VP for Business & Financial Affairs at CI, and shortly thereafter, County Deputy Executive Officer Elaine Crandall and Continuous Process Improvement Manager Paul Stamper began providing the first Lean Six Sigma training sessions to CI employees in the Division of Business & Financial Affairs.  As word of its success spread, other campus divisions began expressing interest.  Following CI President Richard Rush's support of Lean Six Sigma, there has been a broader movement to apply Lean at the campus. 
"I believe that providing a broader understanding and the common vernacular of Lean Six Sigma will help CI emerge as a 21st century leader of innovation and creativity in higher education, while at the same time engaging its workforce in meaningful and worthwhile work," said Abbott-Mouchou.  "Lean's structure nurtures a culture of vulnerability, thereby enabling the courage to take risks to work cross-functionally in the introduction of new services to students and in seeking operational efficiencies."
That's where employees like Remotti come in.  Now certified as a Green Belt facilitator, she can help colleagues grasp and apply Lean Six Sigma principles and practices to their own work environments.
"I now have an opportunity to bring others into a culture of working together to look critically at what is working and what is not working in order to improve efficiency and reduce waste, thereby making all of our jobs easier in a variety of ways," Remotti said.  "We are building camaraderie, solving problems, improving our work environment, and saving real dollars all at the same time.  It's a rewarding feeling to be a facilitator for that type of positive and innovative change."
CI congratulates all of its Green Belt graduates:
Division of Business & Financial Affairs:  Pamela Abbott-Mouchou, Caroline Doll, Deanne Ellison, Katherine Hullinger, Laurie Nichols, Dave Nirenberg, Stan Patscheck, Valerie Patscheck, Karl Richert, Cathy Strauch, JoAnn Stuermer
Academic Affairs: Chanda Cunningham-Spence, Jessica Dalton, Catherine Hutchinson, Beatriz Ruettgers
Office of the President: Melissa Remotti
For more information about Ventura County's Lean Six Sigma program, contact Elaine Crandall at elaine.crandall@ventura.org or visit Ventura County's Service Excellence Web page at http://www.ventura.org/divisions/service-excellence.  For more information about CI's Organizational Effectiveness Program, contact Pamela Abbott-Mouchou at pamela.abbott@csuci.edu.
# # #
About California State University Channel Islands
CSU Channel Islands (CI) is the only four-year, public university in Ventura County and is known for its interdisciplinary, multicultural and international perspectives, and its emphasis on experiential and service learning. CI's strong academic programs focus on business, sciences, liberal studies, teaching credentials, and innovative master's degrees. Students benefit from individual attention, up-to-date technology, and classroom instruction augmented by outstanding faculty research. CI has been designated by the U.S. Department of Education as a Hispanic-Serving Institution and is committed to serving students of all backgrounds from the region and beyond. Connect with and learn more by visiting CI's Social Media.