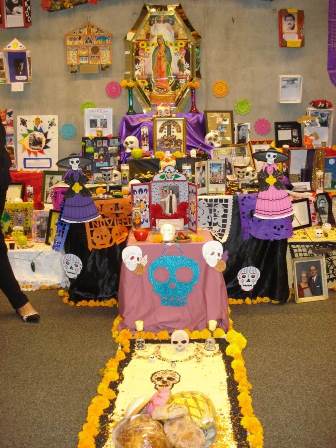 Camarillo, Calif., Oct. 17, 2013 – CSU Channel Islands' (CI) Art and Multicultural Programs invite the campus and community to the fifth annual campus celebration of Día de los Muertos (Day of the Dead), Monday, Oct. 28, at the John Spoor Broome Library Plaza.
Join celebrated Chicana artist Sandra de la Loza from 10 a.m. to 5 p.m. as she creates and installs a 7-ton, 20-by-10-foot sand mural altar exhibition on the Library Plaza. Attendees are invited to put their own touches on the colorful Mixtec-styled mural throughout the day. The exhibition will remain on display at the library until Nov. 8.
Starting at 5 p.m., the Celebration of the Lights of Life kicks off with CI's Ballet Folklórico, Mixtec dancers "Los Diabletos," and DJ Carlos Peralta providing cultural music. Guest speakers include representatives from CI Academic Affairs, Academic Programs and Student Affairs; the Mixteco/Indigena Community Organizing Project (MICOP), and the Mexican Consulate. A Mixtec translator will be at the program.
The event also offers the chance to participate in a variety of Day of the Dead arts and crafts projects alongside campus and community members. Students from the Chicano Art History class will create a Day of the Dead altar installation to be displayed in the library. Members of M.E.Ch.A (Movimiento.Estudiantil.Chicano/a.de Aztlan), a Chicana/o student organization, will build a memorial art installation commemorating the life of Mexican-American educator and civil rights leader Sal Castro. And the Mixteco/Indigena Community The Organizing Project (MICOP) will construct a Mixtec-styled altar. Craft activities for the public will be hosted by the Student Programming Board.
El Día de los Muertos is celebrated in Mexico and throughout the world as a way to commemorate family and friends who have died. Families celebrate the lives of their loved ones by creating home altars and placing offerings of everyday life such as pan de muertos (sweet bread baked in shapes of skulls and figures), candles, yellow marigolds known as cempazuchitl/zempasuchil, and photos of the departed souls on the altar.
Limited parking is available on campus with the purchase of a $6 daily permit; follow signs to the parking permit dispensers. Free parking is available at the Camarillo Metrolink Station/Lewis Road parking lot in Camarillo with bus service to and from the campus. Riders should board the CI Vista Bus to the campus; the cash-only fare is $1.25 each way. Buses arrive and depart from the Camarillo Metrolink Station every 30 minutes, Monday through Friday. For exact times, check the schedule at www.goventura.org.
For additional information contact Jennifer Chapman, Coordinator for Multicultural Programs at 805-437-8407 or jennifer.chapman@csuci.edu.
# # #
About California State University Channel Islands
CSU Channel Islands (CI) is the only four-year, public university in Ventura County and is known for its interdisciplinary, multicultural and international perspectives, and its emphasis on experiential and service learning. CI's strong academic programs focus on business, sciences, liberal studies, teaching credentials, and innovative master's degrees. Students benefit from individual attention, up-to-date technology, and classroom instruction augmented by outstanding faculty research. CI has been designated by the U.S. Department of Education as a Hispanic-Serving Institution and is committed to serving students of all backgrounds from the region and beyond. Connect with and learn more by visiting CI's Social Media.