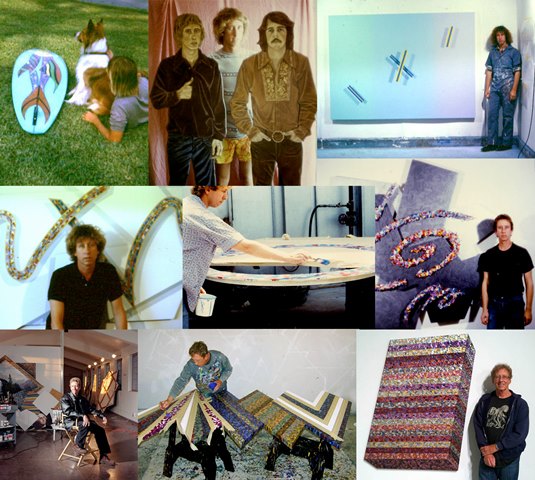 Camarillo, Calif., Oct. 21, 2013 – The Art Program at CSU Channel Islands (CI) is pleased to present Jack Reilly: 40 Years of Painting, a retrospective exhibition spanning four decades in the pioneering, prolific, and highly praised career of painter and CI Art Professor Jack Reilly.  The exhibition opens Thursday, Nov. 7, and runs through Friday, Dec. 13, in the Napa Hall Art Gallery.  A free, public opening reception with the artist will be held Thursday, Nov. 7, from 6 to 8 p.m.
The exhibition provides a comprehensive exploration of Reilly's career in the arts, showing his evolution from teenage surfboard painter to trailblazing legend in the Abstract Illusionism movement and internationally renowned artist.  Viewers will be able to see early, never-before-seen works, leading up to the signature vivid, multidimensional, multichromatic, abstract shaped-canvas paintings of today.
"I consider having had the opportunity to spend my life as a professional artist to be a privilege and symbolic of the possibilities of the open society we live in," Reilly said. "I hope that viewers will be able to share in my sense of youthful inspiration and subsequent artistic maturity, as they trace my development from early, awkward concepts and techniques to personal clarification and, ultimately, the competent execution of concepts and the work itself."
Reilly joined CI as one of the first faculty members in 2001, serving as founder and chair of the Art Program through June 2013.  In addition to teaching courses on painting, two-dimensional media, and the Zen of Surfing, he is a productive artist and exhibitor in galleries and museums throughout the world.
He found his calling as a teenager in Florida in the early 1970s, painting designs on surfboards.  After attending art school in Paris and earning an MFA at Florida State University, Reilly settled in Los Angeles.  He quickly rose to prominence as one of the originators of the Abstract Illusionism movement, in which artists revolutionized abstract art by creating the illusion of a three-dimensional space on a two-dimensional surface.
Continuing to work with shaped paintings for the past four decades, Reilly has maintained an affinity for simplicity in painting, albeit shrouded in complex systems and laborious technique.  His recent geometric-shaped canvases combine attention to composition and surface detail, based around mathematical systems and perspective.  Each painting is made up of thousands of individual brushstrokes, painted in acrylic polymers and metallic pigments on a shaped canvas structure.  Reilly's signature brushwork is often compared to the complexity of Byzantine mosaics and the luminosity of Gothic stained glass.
Reilly's work is exhibited internationally in galleries and museums and is included in numerous public and private collections.  He has executed major public-art commissions for the County of San Diego and American Airlines at Los Angeles International Airport, and his paintings have been included in the collections of such notables as Fred and Marcia Weisman, Steve Martin, and Daniel Melnick.  His contributions to art are noted in books including "American Art Now," "Inside the L.A. Artist," and "Introduction to Design."
"Having this show at CI provides the local community, and especially my students, with the opportunity to trace the evolution of my work from the time when I was about their age and into the role of a professional artist and professor," Reilly said.  "Hopefully, the growth in my work over the years will serve as inspiration to the students and illustrate to them that it is possible – and fun – to build a life around one's art."
The Napa Hall Art Gallery, the University's premier art exhibition venue, is located on Ventura Street on the CI campus.  Gallery hours are Monday through Friday, 9 a.m. to 5 p.m.  For additional information, contact the CI Art Program at 805-437-2772, email art@csuci.edu, or visit http://art.csuci.edu.  To view Reilly's work, visit http://jackreilly.com.
# # #
About California State University Channel Islands
CSU Channel Islands (CI) is the only four-year, public university in Ventura County and is known for its interdisciplinary, multicultural and international perspectives, and its emphasis on experiential and service learning. CI's strong academic programs focus on business, sciences, liberal studies, teaching credentials, and innovative master's degrees. Students benefit from individual attention, up-to-date technology, and classroom instruction augmented by outstanding faculty research. CI has been designated by the U.S. Department of Education as a Hispanic-Serving Institution and is committed to serving students of all backgrounds from the region and beyond. Connect with and learn more by visiting CI's Social Media.