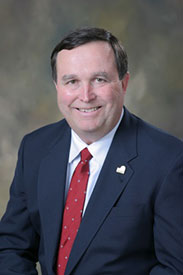 Camarillo, Calif., Sept. 10, 2013 – CSU Channel Islands (CI) will hold its 14th Annual President's Dinner, the University's premier black tie fundraising gala, on Saturday, Oct. 5, at 5:30 p.m., at the Four Seasons Hotel Westlake Village.
The event will honor Camarillo businessman and philanthropist Steve Blois with the Robert J. Lagomarsino Award. The Lagomarsino Award, named in honor of the former U.S. congressman and longtime supporter of the University, is presented to individuals who have contributed to and supported CI. Blois, a resident of Camarillo since 1978, is a licensed general engineering contractor and managed Blois Construction for 20 years. He has served on numerous committees and boards, including the CSU Channel Islands Foundation Board, where he served as chairman from 2009 to 2011. He currently leads the University's Courtyard Committee, overseeing the restoration of CI's courtyards, including the recent completion of the Central Mall Fountain.
The annual President's Dinner brings together more than 400 community members, local dignitaries, faculty, students and special friends of CI for a sophisticated evening of fun and fundraising. Proceeds from the President's Dinner support the University's highest-priority needs, such as student scholarships, critical programs, and new technology, facilities and equipment. This year's event features a cocktail reception, three-course dinner, silent auction, award presentation, performances by the 12-person ensemble Blue Latitude, and a raffle for a VIP celebrity shopping experience at Van Gundy Jewelers, valued at $4,000.
CI wishes to thank the event's title sponsor, Rabobank, along with sponsors Pacific Western Bank, SAGE Publications, Union Bank, Wells Fargo, Karen and Peter Wollons, Aera Energy, Harrison Industries, Fashion Forms, Montecito Bank & Trust, Simi Valley Ford, Elise and Bill Kearney, Bank of America, Canteen of Coastal California, Community Memorial Health System, Limoneira, St. John's Hospitals - A Member of Dignity Health, Heritage Oaks Bank, Leone, the Pacific Coast Business Times, V3 Corporation, the Ventura County Star, and Van Gundy Jewelers.
For more information and to purchase tickets, visit www.csuci.edu and click on the President's Dinner link at the bottom of the homepage, or call 805-437-3552. Sponsorship opportunities are available. Contact Alissa Larreta, Assistant Director of Advancement Events, at 805-437-8916 or alissa.larreta@csuci.edu for more information.
# # #
About California State University Channel Islands
CSU Channel Islands (CI) is the only four-year, public university in Ventura County and is known for its interdisciplinary, multicultural and international perspectives, and its emphasis on experiential and service learning. CI's strong academic programs focus on business, sciences, liberal studies, teaching credentials, and innovative master's degrees. Students benefit from individual attention, up-to-date technology, and classroom instruction augmented by outstanding faculty research. CI has been designated by the U.S. Department of Education as a Hispanic-Serving Institution and is committed to serving students of all backgrounds from the region and beyond. Connect with and learn more by visiting CI's Social Media.