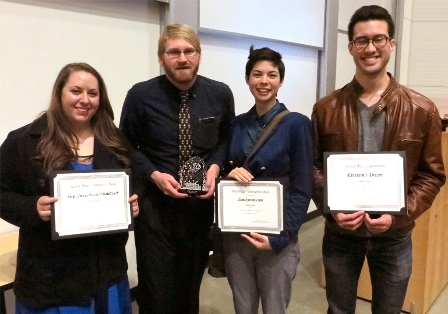 Camarillo, Calif., Nov. 26, 2013 – Four art students from CSU Channel Islands (CI) earned top awards for their interactive media and video work at the statewide CSU Media Arts Festival this month.  The annual festival, held Nov. 9 at Cal State Fullerton, recognizes the best in film, video and interactive media work by students from all 23 CSU campuses.  The CI student victories continue an impressive 11-year winning streak for the youngest campus in the CSU system.
CI students dominated the Interactive Media category – earning all three top spots.  Eamon Stewart took home first place and a $500 Rosebud Award for his personal website, http://www.eamonstewart.com, which showcases his portfolio of work in film, animation and motion graphics.  The Ventura native graduated last spring from the Art Program.  He works at a branding company, is completing an animated short film, and is co-creator of "Waffle Party," a weekly Web comic that he produces with friend, collaborator and fellow CI alumnus Erik Scoggan, at http://www.wafflepartycomic.com. 
"Being an art major at CI was such a rewarding experience," Stewart said.  "In what other major can you have film screenings, art shows, and win awards for your homework?  I had never drawn a pencil test animation or even touched Photoshop before coming to CI.  It brought me up to a level where I have the knowledge and confidence to embark upon my career."
Nichole Couch, a spring graduate from Lancaster now working as a graphic designer, earned second place in Interactive Media for the website she created as a class project for a cheesecake company, http://tinyurl.com/NicoleCouch. 
"It feels really great to be recognized for a project I worked so hard on and to be a finalist with my fellow CI classmates," said Couch, now working as a graphic designer. 
Dani Kwan, a spring 2013 art graduate from West Hills, won third place in Interactive Media for her portfolio website, http://www.danikwan.com, showcasing her work in graphic design, illustration and fashion design.  Kwan is a graphic designer for a Los Angeles-based swimwear company and is also pursuing her interests as a costume designer and freelance web designer.
"Despite its small size and young age, CI has cultivated an incredible Art Program filled with dedicated professors and determined students," Kwan said.  "Because of our department's passion, we have made ourselves known among the art schools of California."
The three winning websites in the Interactive Media category were designed and created as final projects in Web design courses taught by CI Associate Professor of Art Liz King and CI Senior Web Designer and Lecturer Ryan Garcia in the fall 2012 and spring 2013 semesters.
Adam Webber, an art major from Lafayette, took second place in the Experimental Video category for "Einstein's Dream," https://vimeo.com/77234830.  The video, completed in Elizabeth Leister's Art 312: Time-Based Imaging and Compositing course, explores the concept of time as inspired by the book "Einstein's Dreams" by Alan Lightman.
"After seeing all the brilliant work of other CSU students at the festival, I feel very honored to be included," Webber said.  "I absolutely love what I do and I owe it all to CI.  I can't thank my amazing professors enough for teaching me, inspiring me, and motivating me to work as hard as I do."
The Media Arts Festival allows students in the CSU system the opportunity to be judged in professional competition.  More than 150 student entries were received and evaluated by a panel of faculty and industry experts who chose 31 finalists for award competition in nine categories: animation, documentary, experimental, interactive, music video, narrative, television, feature screenplay, and short screenplay.
"These successes show the strength of the Art Program, where we provide our students with the skills to create cutting-edge, award-winning work," said Luke Matjas, Chair of the Art Program. "Backed by a dedicated faculty and an innovative curriculum, CI's art students thrive in the classroom and in the field."
"I am so proud of the caliber of work coming from our art students and of their ongoing achievements at the CSU Media Arts Festival," said King.  "I'm even more heartened by their success in the workplace.  Our goal is to give students a competitive edge as they ready to enter the workforce.  We are now witnessing former students helping in that pursuit, sharing their stories and advice with current students, and even giving them internships and jobs."   
For more information, contact Liz King, Associate Professor of Art (Graphic Design Technology, Web & Multimedia), 805-437-8556 or liz.king@csuci.edu.  For more information on the Media Arts Festival, visit http://www.mediaartsfestival.org/.
# # #
About California State University Channel Islands
CSU Channel Islands (CI) is the only four-year, public university in Ventura County and is known for its interdisciplinary, multicultural and international perspectives, and its emphasis on experiential and service learning. CI's strong academic programs focus on business, sciences, liberal studies, teaching credentials, and innovative master's degrees. Students benefit from individual attention, up-to-date technology, and classroom instruction augmented by outstanding faculty research. CI has been designated by the U.S. Department of Education as a Hispanic-Serving Institution and is committed to serving students of all backgrounds from the region and beyond. Connect with and learn more by visiting CI's Social Media.