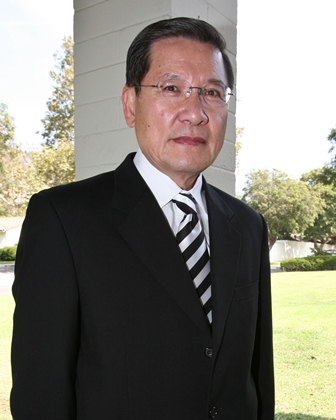 Camarillo, Calif., Oct. 3, 2013 – Leading economist Dr. Sung Won Sohn of the Institute for Global Economic Research (IGER) at CSU Channel Islands (CI) will present "Global Economy and Investment Options," Friday, Oct. 25, at noon in the Banquet Facility and Community Center at Los Robles Greens Golf Course, 299 South Moorpark Rd., Thousand Oaks. Sohn will give his semiannual economic outlook for Ventura County, the U.S., Europe and China; examine implications on business in the South Coast region; and highlight investment and trade opportunities in established and emerging markets.
Admission is $25 and includes lunch and parking. Participants should register online at http://iger.csuci.edu.
Sohn is an endowed professor at the Martin V. Smith School of Business & Economics and Director of IGER. The Institute is the first of its kind in the region, working to closely link the local economy to the global economy, promote trade between the region and the Pacific Rim countries, and develop future industry leadership by providing international perspectives to students and the community.
Sohn has been noted for his forecasting accuracy by The Wall Street Journal, Time magazine and Bloomberg News. He has served as a senior economic advisor to the White House, President and CEO of Hanmi Bank, Chief Economic Officer and Executive Vice President of Wells Fargo Banks, and currently holds positions as Vice Chairman of the Board of Directors for Forever 21 and Commissioner at the Port of Los Angeles. He is author of the 2009 book, "Global Financial Crisis and Exit Strategy."
For more information, visit http://iger.csuci.edu, or contact Mary Hanley, Administrative Marketing Analyst, at 805-437-3316 or mary.hanley@csuci.edu.
# # #
About California State University Channel Islands
CSU Channel Islands (CI) is the only four-year, public university in Ventura County and is known for its interdisciplinary, multicultural and international perspectives, and its emphasis on experiential and service learning. CI's strong academic programs focus on business, sciences, liberal studies, teaching credentials, and innovative master's degrees. Students benefit from individual attention, up-to-date technology, and classroom instruction augmented by outstanding faculty research. CI has been designated by the U.S. Department of Education as a Hispanic-Serving Institution and is committed to serving students of all backgrounds from the region and beyond. Connect with and learn more by visiting CI's Social Media.