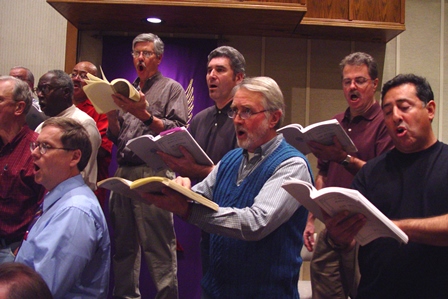 December 20, 2013- The CSU Channel Islands (CI) Choir is now holding auditions for its combination university-community choir.  Auditions will be held by appointment up until the first rehearsal of the year on Monday, Jan. 13.  At this time, the choir is specifically looking for tenors, baritones and basses.  Contact the choir's choral director, Dr. KuanFen Liu, at 805-278-0375 or downbeatplus@gmail.com, to schedule an audition. 
The choir is made up of CI students and faculty members, as well as members of the community.  Offered as part of the University's Performing Arts Program, the choir is a weekly class that meets every Monday evening from 7 - 9:50 p.m. in Malibu Hall 140.  Each semester, the curriculum covers a wide range of musical genres and periods from Medieval to the present time, and offers members the chance to perform publicly throughout Ventura County as well as on the CI campus.
The choir is led by Dr. KuanFen Liu.  Dr. Liu holds a Doctor of Musical Arts degree from the Thornton School of Music at the University of Southern California, a Master of Music in conducting from the Eastman School of Music, and a Bachelor of Fine Arts in voice performance from Tunghai University in Taiwan.  She has conducted the choir since its inception in 2004.
For 2014, concerts will be performed in late March, early May and December.  The highlight of the March concert will be the performance of Brahm's Requiem, accompanied by the Channel Islands Chamber Orchestra and professional soloists.
"We chose to perform the Brahms Requiem as an anniversary tribute to the victims of last year's Boston Marathon tragedy on April 15 and as a remembrance of a beloved former choir member, the Rev. William Gutknect," said Dr. Liu. "Unlike almost all other requiems, which are funeral pieces and very sad, Brahms wrote this music to provide a message of hope and comfort.  He specifically put the piece in his own language, German, rather than Latin, so that the public could understand his message of condolences to the living."
To learn more about the class, visit the choir's website at http://choir.csuci.edu or contact Dr. Liu at 805-278-0375 or downbeatplus@gmail.com. 
Channel Islands Choral Association (CICA) is the sponsor of the choir.  CICA is a 501 (c)(3) organization that serves Ventura County, bringing music education and performance to the local schools and community.  For more information, visit the CICA website at www.cicachoir.org or contact Nina Ruhland at 805-914-4589 or egruhland@aol.com.  
# # #
About California State University Channel Islands
CSU Channel Islands (CI) is the only four-year, public university in Ventura County and is known for its interdisciplinary, multicultural and international perspectives, and its emphasis on experiential and service learning. CI's strong academic programs focus on business, sciences, liberal studies, teaching credentials, and innovative master's degrees. Students benefit from individual attention, up-to-date technology, and classroom instruction augmented by outstanding faculty research. CI has been designated by the U.S. Department of Education as a Hispanic-Serving Institution and is committed to serving students of all backgrounds from the region and beyond. Connect with and learn more by visiting CI's Social Media.