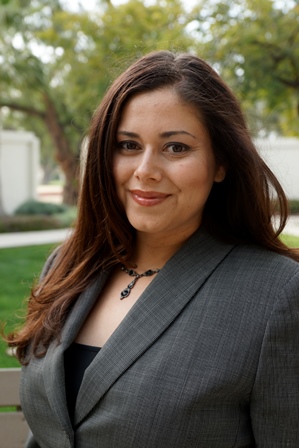 Camarillo, Calif., May 22, 2014 – Amanda Quintero, Director of Hispanic Serving Institution Initiatives at CSU Channel Islands (CI), has been elected Vice President of the Alliance of Hispanic Serving Institution Educators (AHSIE).  The Alliance supports the work of the nation's more than 300 Hispanic Serving Institutions (HSIs) as they seek to provide educational opportunities to the growing numbers of Hispanic and underserved students.
A first-generation college graduate, Quintero is a powerful advocate and promoter of opportunities for underrepresented student populations in higher education.  During her ten-year career at CI, she has been the recipient of the El Concilio Latino Leadership Award (2013), CI Multicultural Programs Women's Leadership Award (2012) and the Pacific Coast Business Times 40 under 40 Award (2005) and has served as the Interim Associate Vice President for Research & Sponsored Programs, Interim Director of the Office of Service Learning, Title V Project Director, and Director for Research & Sponsored Programs. 
Through Quintero's efforts, CI has secured more than $12.7 million in funding for Hispanic-Serving Institution Initiatives (Projects ISLAS, Vista, ACCESO, and ASCENSION) benefiting more than 3,000 students in Ventura County including CI students of all ethnicities, high schools students, and community college students.  Prior to joining CI, Quintero was the Coordinator of AmeriCorps Programs for the CSU Chancellor's Office of Community Service Learning and previously in the California Capital Fellows Program serving as an Executive Fellow under the former Gray Davis Administration. 
In June 2014, Quintero will earn her Ph.D. in Education with an emphasis in higher education policy at Claremont Graduate University.  She holds a master's degree in Public Policy and Administration from CSU Long Beach and a bachelor's degree in Global Studies from CSU Monterey Bay.
She was elected during AHSIE's Sixth Annual Best Practices Conference, held March 16-19 at the University of La Verne, with more than 350 members in attendance.  In addition to her role as Vice President, Quintero formerly served as a co-chair of the Alliance's Federal Relations Committee and Conference Planning Committee.
"I am passionate about overcoming barriers to higher education for underrepresented students and shifting institutional culture, policies and practices to support their success," she said. "As a daughter of immigrant parents and a former low-income, first-generation college student, I understand the obstacles that these students face to obtaining a college degree and the value that they can return to their communities as educated leaders.  It's my passion and privilege to help students find a supportive and encouraging environment for fulfilling their dreams at CI."
CI is one of only 10 percent of institutions in the U.S. to earn the HSI designation, meaning it has a full-time undergraduate population that is at least 25 percent Hispanic.  Though HSIs constitute only one-tenth of the nation's colleges, they enroll more than half of all Hispanic students, making them critically important to the nation's future and economy.  AHSIE was formed in 2011 as a way to support the growing number of HSIs seeking to share information and best practices, maximize grant funding, and provide quality, relevant educational opportunities to underserved Hispanic student populations.
"Being elected Vice President of AHSIE is a huge accomplishment for Amanda and another asset she has brought to CI," said Karen Carey, Associate Vice President for Academic Affairs, Arts & Sciences at CI.  "Amanda has delivered significant resources to campus through her excellent grant-writing skills, resulting in numerous opportunities for students that they would not have otherwise been exposed to."
Contact Amanda Quintero at 805-437-3285 or amanda.quintero@csuci.edu.  For more information on AHSIE, visit www.ahsie.org.
# # #
About California State University Channel Islands
CSU Channel Islands (CI) is the only four-year, public university in Ventura County and is known for its interdisciplinary, multicultural and international perspectives, and its emphasis on experiential and service learning. CI's strong academic programs focus on business, sciences, liberal studies, teaching credentials, and innovative master's degrees. Students benefit from individual attention, up-to-date technology, and classroom instruction augmented by outstanding faculty research. CI has been designated by the U.S. Department of Education as a Hispanic-Serving Institution and is committed to serving students of all backgrounds from the region and beyond. Connect with and learn more by visiting CI's Social Media.