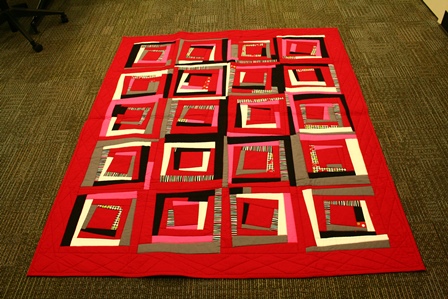 Camarillo, Calif., Jan. 31, 2014 – The Art Program at CSU Channel Islands (CI) is pleased to announce "Dreams and Memories/Colors and Patterns, The Quilts of Kathy Musashi," on display Tuesday, Feb. 4, through Sunday, Feb. 23, in the John Spoor Broome Art Gallery.  The exhibition, an exquisite selection of modern abstract quilts, pays tribute to a gifted quilter and cherished colleague on the eve of her retirement from CI.  A free public reception will take place on Thursday, Feb. 6, from 4:30 to 6 p.m., coinciding with Musashi's retirement the following day.
Curated by Irina D. Costache, CI Art History Professor and coordinator of the Broome Gallery, the exhibition presents almost a dozen quilts in abstracted patterns and stylized forms.  Composed of diverse swatches of textiles, each quilt offers a pictorial feast of fragmented shapes and bold colors, along with endless visual connections and conceptual possibilities.  From a distance, the viewer's gaze is drawn to the quilts' powerful simplicity.  A closer observation of each work reveals subtle textures, unexpected asymmetries, and refined graphics.  These features create a complex mosaic and reveal a sophisticated narrative connecting the works.
"It is a privilege for all viewers, but particularly for all of us on the CI campus, to be able to see these marvelous quilts," Costache said.  "I first saw the quilts in the President's Office, but did not know who the artist was.  I was struck by their beauty and power.  I was even more impressed when I found out that they were created by Kathy, whom I knew and admired for her outstanding professionalism as a member of the CI community.  The same level of dedication and an incredible artistic elegance was in her artwork.  I am very happy to curate this exhibition that reveals a sample from Kathy's vast body of work and discloses her incredible imagination and exceptional craft."
A CI employee since the campus' early days in 2003, Musashi will retire on Friday, Feb. 7.  As CI's Academic Programs & Planning Coordinator, she supports the University's Curriculum Committee and helps guide through changes to the University's 23 academic programs.  She communicates those changes to the greater academic community through her work overseeing the University's course catalog.
An avid quilter for nearly a decade, Musashi is a member of the Ventura Modern Quilt Guild who creates her quilts mainly as a creative outlet and labor of love for friends and relatives.  She was surprised to learn her work was selected for exhibition by the University's Art Program. 
"I am very honored," Musashi said.  "This is a wonderful opportunity to say farewell to my magnificent colleagues who have supported me in many ways while at CI."
Musashi is even more pleased to share "Fair Winds and Following Seas," a quilt she created in memory of her former boss, beloved CI administrator and professor Stephen Lefevre, who passed away in 2011.  
"Steve was a wonderful academic, administrator, and human being.  His passing affected me greatly and creating this quilt helped me to mourn his loss," she said.  "He loved to sail and was the faculty advisor for the first sailing club at CI.  The quilt depicts images of sails.  Steve was always calm no matter the storm.  'Fair Winds and Following Seas' has evolved over the years as a nautical blessing.  Along with those words, the color of the quilt, and its quietness, it all reminds me of Steve.  After the show, I plan to give it to the Lefevre family."
After retiring, the Camarillo resident, mother and grandmother plans to travel, work on her golf game, and help out her aging parents. 
She also plans to do a lot more quilting, which has become a family passion.
"Being the OCD person I am, quilting consumes much of my time.  It's a very labor-intensive endeavor," she said.  "My husband, as a result, has also taken up quilting.  It's an extra benefit having your spouse to share this kind of work.  He's a member of two quilt guilds.  We collaborate on work, and critique and assist each other as necessary.  We've turned quite a bit of our living space into our studio.  Not so presentable, but it works for us."
The exhibition is supported by the CI Art Program; Karen T. Carey, Associate Vice President for Art & Sciences; and William P. Cordeiro, Associate Vice President, MVS School of Business & Economics.
The John Spoor Broome Art Gallery is located on the second floor of the John Spoor Broome Library.  Gallery hours are Monday through Thursday, 10 a.m. to 8 p.m.; Friday and Saturday, 10 a.m. to 5 p.m.; and Sunday, 1 to 5 p.m. 
Limited parking is available on campus with the purchase of a $6 daily permit; follow signs to the parking permit dispensers. Free parking is available at the Camarillo Metrolink Station/Lewis Road with bus service to and from the campus.  Riders should board the CI Vista Bus to the campus; the cash-only fare is $1.25 each way. Buses arrive and depart from the Camarillo Metrolink Station every 30 minutes from 7 a.m. to 10 p.m. Monday through Friday. For exact times, check the schedule at www.goventura.org.
For additional information, contact the Art Program at 805-437-2772; Irina D. Costache at irina.costache@csuci.edu; Kathy Musashi at kathy.musashi@csuci.edu; or the John Spoor Broome Library at 805-437-8561.  
# # #
About California State University Channel Islands
CSU Channel Islands (CI) is the only four-year, public university in Ventura County and is known for its interdisciplinary, multicultural and international perspectives, and its emphasis on experiential and service learning. CI's strong academic programs focus on business, sciences, liberal studies, teaching credentials, and innovative master's degrees. Students benefit from individual attention, up-to-date technology, and classroom instruction augmented by outstanding faculty research. CI has been designated by the U.S. Department of Education as a Hispanic-Serving Institution and is committed to serving students of all backgrounds from the region and beyond. Connect with and learn more by visiting CI's Social Media.