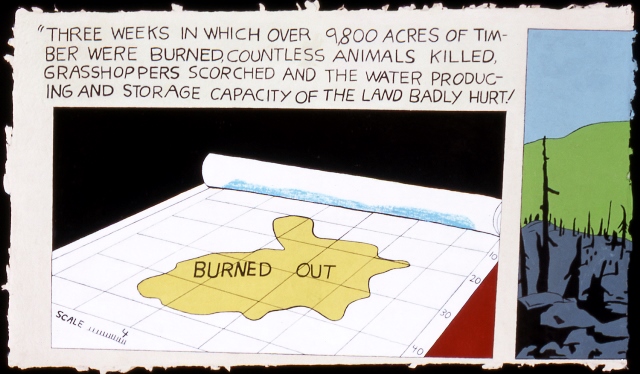 Camarillo, Calif., Jan. 17, 2014 – The Art Program at CSU Channel Islands (CI) is pleased to announce the opening of two exhibitions running concurrently in its galleries at Napa Hall.
CI will present Los Angeles-based artist Corey Stein's series "The Accidental Arsonist" in the main gallery at Napa Hall from Monday, Jan. 27, to Friday, Feb. 21. A free, public artist's reception and talk will be held Thursday, Jan. 30, from 6 to 8 p.m.
Stein uses a diverse array of art media to tell the true story of a large and destructive wildfire set off by the improbable encounter of a grasshopper and an electrical fence. Woodcarving, beading, painting, paper sculpture and comic book art are all employed to tell the story of the fire and the life cycle of the small creature that started the conflagration. Stein imparts both sadness and whimsy into this unfortunate collision of nature and humanity's intervention in the environment.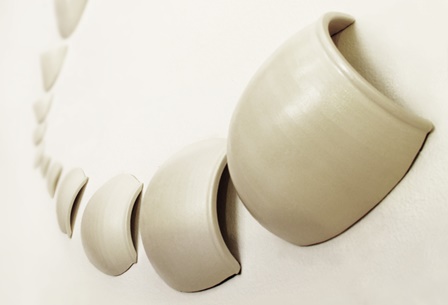 "Re-Imagining," a ceramic series by senior art student Han Nguyen, will run simultaneously in CI's Grad Wall Gallery at Napa Hall, Room 1154.  A free, public opening reception with the artist will also take place Thursday, Jan. 30, from 6 to 8 p.m.
Nguyen's beautifully crafted exhibition is inspired by the creation stories of her native Vietnam, where people are believed to be descendants of dragons and celestial deities. "Re-Imagining" explores the rich and heterogeneous nature of the Asian American experience at its very best.
The Napa Hall Art Gallery is located on Ventura Street on the CI campus.  Gallery hours are Monday through Friday, 9 a.m. to 5 p.m. For additional information, contact the CI Art Program at 805-437-2772 or email art@csuci.edu.
# # #
About California State University Channel Islands
CSU Channel Islands (CI) is the only four-year, public university in Ventura County and is known for its interdisciplinary, multicultural and international perspectives, and its emphasis on experiential and service learning. CI's strong academic programs focus on business, sciences, liberal studies, teaching credentials, and innovative master's degrees. Students benefit from individual attention, up-to-date technology, and classroom instruction augmented by outstanding faculty research. CI has been designated by the U.S. Department of Education as a Hispanic-Serving Institution and is committed to serving students of all backgrounds from the region and beyond. Connect with and learn more by visiting CI's Social Media.