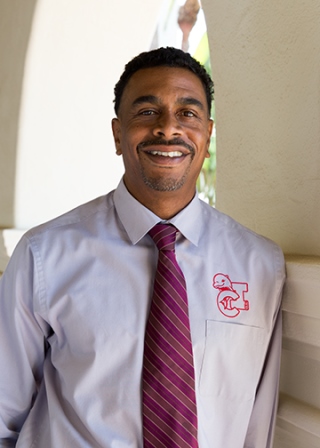 Camarillo, Calif., June 4, 2014 – CSU Channel Islands (CI) is pleased to announce Carrick DeHart's induction into the Santa Barbara Basketball Court of Champions. DeHart, a UCSB basketball legend and CI's Director of Major Gifts, is among the group's 22 inaugural inductees. Others include DeHart's teammate Brian Shaw, currently head coach of the Denver Nuggets, and NBA All-Star Jamaal Wilkes.
The Court of Champions was established to recognize and honor individuals from the Santa Barbara community who have achieved outstanding accomplishments in basketball or made significant contributions to the game. The induction ceremony took place on Sunday evening, June 1, at the Fess Parker DoubleTree Resort.
"I'm flattered to be among the honorees," said DeHart. "Each has achieved so much, and I'm glad to have been in contact with many of them over the years. There are wonderful human connections in the game of basketball – both on the court and through community service work. Gathering all this energy in the same room is a phenomenal thing. I'm very pleased to be a part of it."
DeHart (guard) led the UCSB Gauchos into the NCAA Tournament twice during his collegiate career. In 1990, he scored a game-high 24 points against the top-ranked UNLV Runnin' Rebels'. The Gauchos beat the Rebels, the eventual national champions, breaking UNLV's 55-game winning streak. DeHart was named Big West Freshman of the Year in 1987 and achieved All-American status in 1990. He scored 1,687 career points at UCSB, a record that stood for 18 years and still ranks second in the university's history.
"On behalf of the faculty, staff and students at Channel Islands and the greater CSU system, I congratulate Carrick on his induction into the Court of Champions," said CI President Richard R. Rush. "The characteristics that made Carrick an outstanding student athlete continue to shine through his contributions at CI. He is a valued colleague and will expand our perspective as we assess options for a future athletics program on campus."
Prior to joining CI in June 2012, DeHart was Director of Development for UCSB and Assistant Coach for the UC Riverside Women's Basketball Team. He holds a Bachelor of Arts degree in Ethnic Studies from UCSB.
# # #
About California State University Channel Islands
CSU Channel Islands (CI) is the only four-year, public university in Ventura County and is known for its interdisciplinary, multicultural and international perspectives, and its emphasis on experiential and service learning. CI's strong academic programs focus on business, sciences, liberal studies, teaching credentials, and innovative master's degrees. Students benefit from individual attention, up-to-date technology, and classroom instruction augmented by outstanding faculty research. CI has been designated by the U.S. Department of Education as a Hispanic-Serving Institution and is committed to serving students of all backgrounds from the region and beyond. Connect with and learn more by visiting CI's Social Media.