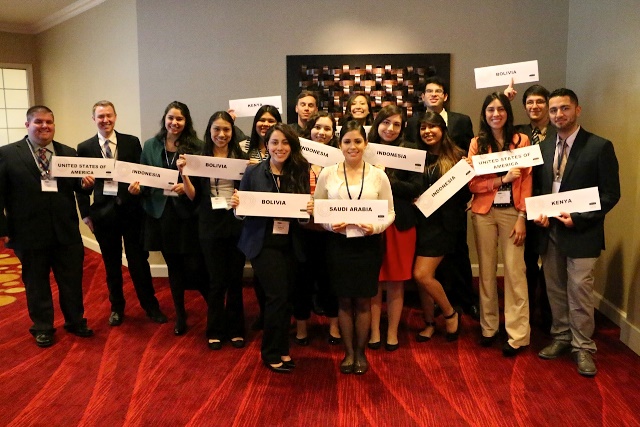 Camarillo, Calif., April 17, 2014 – The Model United Nations team at CSU Channel Islands (CI) continued its impressive six-year winning streak with victories in three annual national conferences.
At the most recent conference, Model UN of the Far West, held April 10-14 in Burlingame, Calif., the 17-member CI team won the Slanczka Achievement Certificate in the Art and Practice of Diplomacy, awarded to delegations whose members are excellent across all committees.  All three CI delegations, representing Portugal, Liberia and Sweden, received this top team award.
At the National Model UN-Northwest Conference, held Feb. 14-16 in Portland, the CI team picked up five awards, including the Distinguished Delegation Award.  Student Robert Lestak won the Best Delegate Award, and Lestak, Jeanette Briseno and Joe Sesto earned awards for Best Position Paper.
Team member Jenny Arevalo garnered the Best Position Paper Award at the Northwest Model United Nations Conference, held Nov. 14-16 in Seattle.
Led by faculty advisors Dr. Andrea Grove and Dr. Chris Scholl from the Political Science Program, this year's Model UN team included Yasmeen Ali, Greg Amantia, Jenny Arevalo, Maria Barrios, Jeanette Briseno, Eric Case, Kristina Cervi, Lizbett Chavez, Lisa Marie Clark, Kimberly Fuentes, Joseph Gabrielson, Stephanie Garcia, Nicholas Gomez, Risa Head, Thomas Inlow, Robert Lestak, Sebastian Navarro, Stephanie Renteria Perez, Allison Pino, Edgar Rodriguez, Sara Sanders, Joseph Sesto, Ashley Tucker, and Emily Welsh.
Founded in 2008, CI's Model UN team allows students to step into the roles of UN ambassadors to research and debate current issues on the organization's agenda.  Student delegates make speeches, prepare draft resolutions, negotiate with allies and adversaries, resolve conflicts, and navigate the Model UN conference rules of procedure – all in the interest of mobilizing international cooperation to resolve problems that affect countries all over the world.  Students receive credit for coursework and conference participation in the course POLS 490: Special Topics—Model UN.
CI's Model UN team is supported by funding from the student Instructionally Related Activities fund, AVP of Arts and Sciences, and the Political Science Program.
For more information, contact Dr. Andrea Grove at andrea.grove@csuci.edu or Dr. Chris Scholl at Christopher.scholl@csuci.edu.
# # #
About California State University Channel Islands
CSU Channel Islands(CI) is the only four-year, public university in Ventura County and is known for its interdisciplinary, multicultural and international perspectives, and its emphasis on experiential and service learning. CI's strong academic programs focus on business, sciences, liberal studies, teaching credentials, and innovative master's degrees. Students benefit from individual attention, up-to-date technology, and classroom instruction augmented by outstanding faculty research. CI has been designated by the U.S. Department of Education as a Hispanic-Serving Institution and is committed to serving students of all backgrounds from the region and beyond. Connect with and learn more by visiting CI's Social Media.