Camarillo, Calif., March 19, 2014 – CSU Channel Islands (CI) is pleased to announce the 2014 inductees to the Mortar Board, the premier national honor society recognizing college seniors for superior achievement in scholarship, leadership and service.
A record 19 students were initiated into CI's Four Pillars Chapter during a ceremony on  March 17 in the Archives Courtyard at the John Spoor Broome Library.  Family, friends, faculty and fellow students looked on as Provost Gayle Hutchinson, Chapter President Afua Adjekum, and advisors Andrea Grove and Janet Pinkley led the ceremony.
CI congratulates the following 2014 Mortar Board inductees:
Bianca Barnes
Kristina Cervi
Eric Dees
Jenna Fordis
Alyssa Fumarolo
Courtney Guinn
Danit Havton
Chloe Keller
Kellie London
Laura Mathews
Alina Mitina
Kelsey Pritsker
Cesar Rivera
Shiva Tadayon
Jeffrey Tedmori
Ashley Tegley
Alicia Vazquez
Chelsea Vinas
Casey Yarborough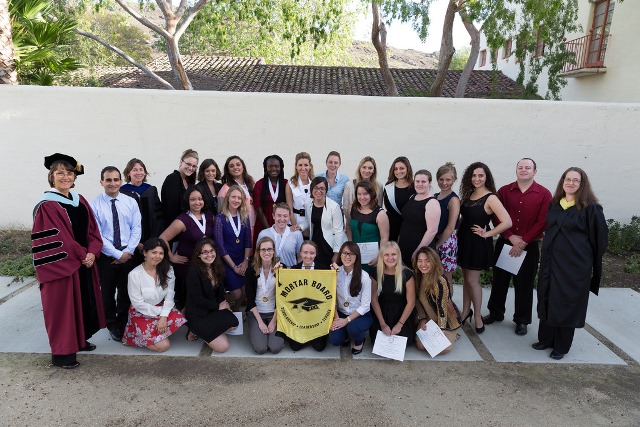 Mortar Board is one of the nation's oldest honor societies, with more than one million members initiated at chapters on 230 campuses since its founding in 1918.  Established on CI's campus in 2011, Mortar Board's Four Pillars Chapter is a participatory organization that challenges each of its members to actively engage with their campus and community and truly represent the spirit of scholarship, leadership and service.  To earn entry, students must be seniors with at least a 3.5 cumulative GPA, and submit a comprehensive application demonstrating superior scholastic ability, outstanding and continual leadership, and dedicated service to the community.  Mortar Board members attend regular meetings and participate in community service, campus enrichment and leadership development activities.
The chapter's name refers to the four pillars of CI's student-centered mission:  interdisciplinary learning, community engagement, international perspectives, and multicultural perspectives.  The chapter slogan, "Strength in diversity, service to community," reflects the diverse and multicultural nature of CI's student body, and the chapter's commitment to serving the local community.
For more information, contact the chapter advisors, Andrea Grove at 805-437-3124 or andrea.grove@csuci.edu, or Janet Pinkley at 805-437-3217 or janet.pinkley@csuci.edu.
ASSET "New Release Footer" CANNOT BE SHOWN IN WYSIWYG