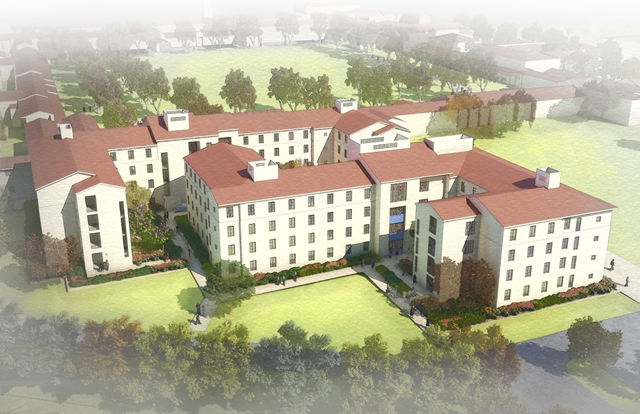 Camarillo, Calif., Nov. 17, 2014 – CSU Channel Islands (CI) invites the public to a groundbreaking celebration for Santa Rosa Village, the newest and largest of CI's student residence halls, which will house the growing influx of freshmen. Join President Richard R. Rush, faculty, staff, students and community friends on Monday, Nov. 24, at 11 a.m., as the University launches its next important building project.
The brand new four-story, 120,000-square-foot campus residence hall will accommodate 600 freshman students and help alleviate overcrowding in current student housing.
Scheduled for completion by summer 2016, Santa Rosa Village blends CI's classic Spanish Mission-style architecture with the conveniences and comforts of 21st century student living. The residences are designed to foster community and interaction, with student suites centered around spacious, modern living rooms and communal kitchens. Living areas connect to an outdoor courtyard and common laundry area.
"The focus is on the freshman experience, where social engagement is a key element in the design concept," said John Gormley, CI's Campus Architect and Director of Planning, Design & Construction.
Santa Rosa Village is designed to meet LEED Gold and CALGreen Tier 2 standards – high ratings awarded by national and state certification systems that encourage the construction of energy and resource-efficient buildings. The $58 million project is funded through the CSU system's Revenue Bond Program and will be repaid with income generated from student housing fees. The project teams architects Solomon Cordwell Buenz (SCB) with Sundt Construction, the company which is also constructing Sierra Hall, a new academic building.
Santa Rosa Village answers significant demand for new on-campus housing at a critical time. Anacapa Village, opened in 2004, and Santa Cruz Village, opened in 2007, together offer just over 800 beds. However, more than 1,200 students sought on-campus housing for the 2014-15 academic year. As a result, the University has had to triple-bunk students in residence halls and lease additional apartments in University Glen and off campus.
As CI continues to expand enrollment at eight percent a year – doubling capacity to 10,000 students by the year 2025 – more spaces for student living, learning, support services, community engagement and recreation will be needed. CI's 2025 Vision Plan outlines a roadmap for the University's growth over the next decade, relying on a combination of state and public support, community partnership, enterprise, and self-generating revenue streams to achieve expansion goals. The Vision Plan identifies as key priorities labs and lecture halls, student housing, larger dining facilities, a health center, wellness and recreation center, conference and events center, and performing arts venue. It also prioritizes new parking spaces and additional phases of University Glen, including more on-campus retail stores.
"Santa Rosa Village represents an essential and exciting milestone in CI's evolution as the nation's fastest-growing public university," Rush said. "It greatly enhances CI's capacity to serve students, provide a first-rate living/learning experience, and nurture the workers and leaders who will enrich our community for generations to come. We hope the community will join us to celebrate this momentous event."
Light refreshments will be served. RSVP by Thursday, Nov. 20, to http://go.csuci.edu/srgb, or call 805-437-3344.
Santa Rosa Village will be located on the south end of campus on Santa Paula Street. Upon entering campus, guests should follow event signage to complimentary parking and the groundbreaking ceremony.
# # #
About California State University Channel Islands
CSU Channel Islands (CI) is the only four-year, public university in Ventura County and is known for its interdisciplinary, multicultural and international perspectives, and its emphasis on experiential and service learning. CI's strong academic programs focus on business, sciences, liberal studies, teaching credentials, and innovative master's degrees. Students benefit from individual attention, up-to-date technology, and classroom instruction augmented by outstanding faculty research. CI has been designated by the U.S. Department of Education as a Hispanic-Serving Institution and is committed to serving students of all backgrounds from the region and beyond. Connect with and learn more by visiting CI's Social Media.