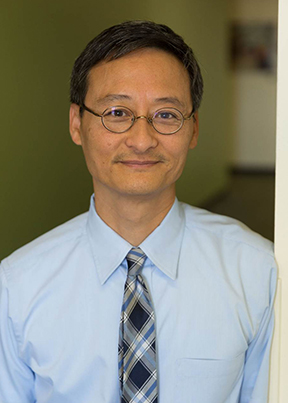 Camarillo, Calif., May 15, 2014 – CSU Channel Islands (CI) is pleased to announce Hung Dang as the new Associate Vice President for Enrollment Management.  Dang, a veteran administrator with more than two decades of experience directing admissions and enrollment at growing state universities, began his first day of work on the CI campus May 1.
As Associate Vice President for Enrollment Management, Dang will be responsible for leading CI's student recruitment and undergraduate admissions, the registrar's office, financial aid and scholarships, and academic advising, along with approximately 40 full-time employees.
He most recently served as Associate Vice Chancellor for Enrollment Management at the University of Hawaii at Mānoa, where he managed undergraduate admissions, financial aid, the registrar's office, and drafted marketing and recruitment strategies for local, mainland and international students.  Prior to his work at the University of Hawaii, he spent 16 years at the University of Washington Bothell in a variety of leadership positions, including overseeing both Enrollment Management and Student Affairs during a time of rapid expansion.  He spent the first seven years of his career at the University of Washington Tacoma, starting as a Registration/Admissions Adviser and working his way up to University Registrar and Assistant Director of Admissions.
Dang holds a master's degree in Leadership & Organization from Gonzaga University and a bachelor's degree in Political Science from the University of Washington Seattle.  
A first-generation immigrant from Vietnam, Dang was able to stay in the U.S. and complete college thanks to the intervention of a University of Washington admissions counselor, who demystified the admissions process and steered him toward the office of financial aid and other resources. After earning his bachelor's degree, Dang became the first registrar at the University of Washington Tacoma, which started him on his career path.
"I am very excited and honored to be joining the university at such a formidable stage in its development and look forward to expanding access to higher education for students in Ventura and Los Angeles counties and beyond," he said. "CI's strength is its entrepreneurial and creative culture, which I am thrilled to be a part of. I see my role in helping the institution to share its story, including its academic opportunities, unique location, and entrepreneurial spirit. This is an area I understand very well, and I look forward to applying what I've learned along the way to meet the ambitious enrollment growth projected for Channel Islands."
Dang, 49, lives in Camarillo with his wife and 11-year-old son.
# # #
About California State University Channel Islands
CSU Channel Islands (CI) is the only four-year, public university in Ventura County and is known for its interdisciplinary, multicultural and international perspectives, and its emphasis on experiential and service learning. CI's strong academic programs focus on business, sciences, liberal studies, teaching credentials, and innovative master's degrees. Students benefit from individual attention, up-to-date technology, and classroom instruction augmented by outstanding faculty research. CI has been designated by the U.S. Department of Education as a Hispanic-Serving Institution and is committed to serving students of all backgrounds from the region and beyond. Connect with and learn more by visiting CI's Social Media.