Camarillo, Calif., June 11, 2014 – The CSU Channel Islands (CI) chapter of Gamma Beta Phi National Honor Society has earned a trio of national awards recognizing its outstanding leadership and community service.  CI's oldest student honor society garnered the highest national honor as Exemplary Chapter of the Year and also picked up accolades for President of the Year and Advisor of the Year, making it the only chapter in the 50-year history of Gamma Beta Phi to win all three top national awards in a single year.  Since the service-based honor society was chartered on campus in 2003, it has also received the coveted Distinguished Chapter Award each year for the past 11 years.
"I consider CSU Channel Islands my flagship chapter of the Gamma Beta Phi National Honor Society," said Jimmy McNutt, National Executive Director of Gamma Beta Phi.  "Year in and year out, the Gamma Beta Phi Chapter at CI has consistently amazed me with thousands of hours of community service and outreach both on and off campus.  This chapter is a shining example for which we stand.  We do community outreach in the name of academic excellence, and no chapter does it better than CI. "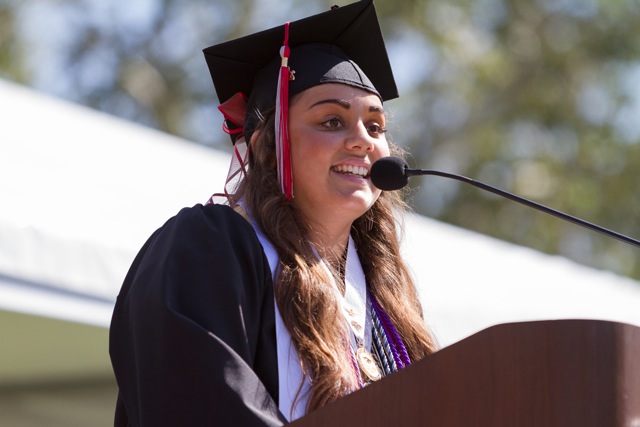 CI's 145 Gamma Beta Phi members work to promote the principles of scholarship, character and service by performing volunteer projects in the community.  Each student must maintain a cumulative GPA of at least 3.5 and complete a minimum of 10 hours of community service a semester. 
Over the past year, Gamma's CI Chapter volunteered 7,082 hours of service, held multiple events to benefit the needy, and made sizable contributions through fundraising, collections and donations.  Among the highlights, the students collected 450 Christmas toys for children at the RAIN Transitional Living Center; raised $2,000 as an American Cancer Society Relay for Life team; donated 100 teddy bears to the Teddy Bear Cancer Foundation; sent 300 cards to the troops; collected 200 books for elementary school children; and provided 160 sets of blankets, plates and cups to migrant families.
The Exemplary Chapter of the Year Award recognizes CI as the top chapter out of more than 130 chapters nationwide.  The national organization also recognized Chapter President Dallas Lawry as President of the Year and Chapter Advisor Wm. Gregory Sawyer, CI's Vice President for Student Affairs, as Distinguished Fellow and Advisor of the Year. 
Lawry, a recent graduate of CI's Nursing Program, has served as the group's President for the past two years.  During that time, she led the chapter to double its membership, triple its service hours, and win campus and national awards.  Lawry was also recognized as a CI Senior Leader of the Year, and served on the executive board of the Student Nurses Association, the Mortar Board Honor Society, and the Psi Chi Psychology Honor Society.  She hopes to become an oncology nurse and earn her Doctorate of Nursing Practice.
"Gamma Beta Phi has been a tremendous influence in my life," Lawry said. "It has taught me leadership, responsibility, and most of all, that there is still so much genuine good in the world, and that people want to help others.  We are so lucky to have members that pour their heart and soul into this organization.  This has made all the difference in giving Gamma a name at CI, as well as nationally."
"I have been involved with Gamma for many years, but never have I seen a leader so committed and dedicated to moving a chapter to excel like Dallas Lawry," said Sawyer. "Her chapter meetings were motivational and inspiring. We consistently had 70 to 80 people attend each meeting, which is incredible for a campus our size."
Sawyer was awarded the highest national award the society can give an advisor – the lifetime achievement award of Gamma Beta Phi Distinguished Fellow and Advisor of the Year.  Since starting the chapter as its founding advisor, he has helped inspire hundreds of students to become dynamic leaders and participants in their campus and community.  The veteran student affairs administrator was recently appointed by Governor Jerry Brown to the California Student Aid Commission (CSAC).  He earned the Scott Goodnight Award for Outstanding Performance as a Dean/Vice President from the National Association of Student Personnel Administrators (NASPA) in 2011. 
As Vice President for Student Affairs, Sawyer helps create and oversee co-curricular programs and services that help students thrive and learn beyond the classroom.  He leads the Division of Student Affairs (DSA), which includes Associated Students Incorporated, Housing & Residential Education, Student Life, and Wellness & Athletics, as well as a number of programs that emphasize leadership, service and diversity.  Known as "Doc," he is popular among students for his accessibility, student leadership retreats, speech tournaments, and leadership and public speaking courses.
"Dr. Sawyer is such a blessing," Lawry said.  "He is the reason that Gamma Beta Phi exists, and is our biggest supporter. Having an advisor that is such a visionary and such a big influence on campus has made Gamma Beta Phi flourish.  Every member of our chapter would agree that Doc's professionalism, his vibrant personality, and his constant guidance and new ideas have brought Gamma to where it is today."
Originally formed in South Carolina in 1964, Gamma Beta Phi today has more than 130 chapters on campuses in 28 states and an active membership of approximately 40,000 students.  For more information on Gamma Beta Phi, visit gammabetaphi.org or contact Dallas Lawry at dallas.lawry197@myci.csuci.edu, or Greg Sawyer at greg.sawyer@csuci.edu.
# # #
About California State University Channel Islands
CSU Channel Islands (CI) is the only four-year, public university in Ventura County and is known for its interdisciplinary, multicultural and international perspectives, and its emphasis on experiential and service learning. CI's strong academic programs focus on business, sciences, liberal studies, teaching credentials, and innovative master's degrees. Students benefit from individual attention, up-to-date technology, and classroom instruction augmented by outstanding faculty research. CI has been designated by the U.S. Department of Education as a Hispanic-Serving Institution and is committed to serving students of all backgrounds from the region and beyond. Connect with and learn more by visiting CI's Social Media.