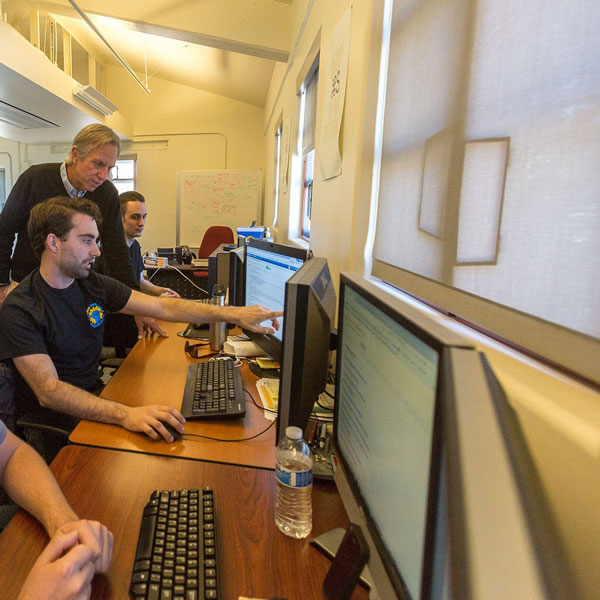 Camarillo, Calif., Dec. 16, 2014 – CSU Channel Islands (CI) junior Danny Larkins had been studying art for three years when he switched his major to computer science because "it felt right," he said.
An award Larkins won from a national software company this week suggests Larkins made a good choice. Larkins won the national "2014 OmniUpdate Gadget Challenge" for a software "gadget" he invented.
OmniUpdate is a Camarillo-based web content management systems company for institutions of higher learning. CI is among 700 colleges and universities that use OmniUpdate.
The CI student, who is from Agoura Hills, beat more than 40 other entries to win free registration to the OmniUpdate User Training Conference in Newport Beach in March; $1,500 to cover all conference expenses; and a one-day cruise out of Newport Beach.
Larkins, a student assistant in CI's Web Services in Information Technology Services, was at his computer Tuesday, Dec. 9, when a representative from OmniUpdate surprised him with a t-shirt and the news that he had won. "I was surprised, I didn't expect it at all," Larkins said after slipping on the conference t-shirt over the Batman t-shirt he wore that day to the applause of staff and fellow student assistants.
Larkins' winning gadget is a highly technical "dependency tag manager," which helps programmers prevent broken links when moving pages around on a website.
Web Services Supervisor Daniel Martinez is delighted at Larkins' progress since Larkins arrived two years ago. "He came in very green, not knowing anything about web coding or html," Martinez said.
# # #
About California State University Channel Islands
CSU Channel Islands (CI) is the only four-year, public university in Ventura County and is known for its interdisciplinary, multicultural and international perspectives, and its emphasis on experiential and service learning. CI's strong academic programs focus on business, sciences, liberal studies, teaching credentials, and innovative master's degrees. Students benefit from individual attention, up-to-date technology, and classroom instruction augmented by outstanding faculty research. CI has been designated by the U.S. Department of Education as a Hispanic-Serving Institution and is committed to serving students of all backgrounds from the region and beyond. Connect with and learn more by visiting CI's Social Media.