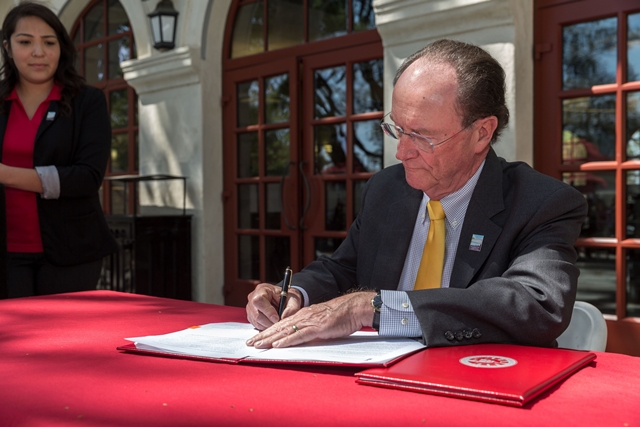 Camarillo, Calif., May 8, 2015 – CSU Channel Islands (CI) has always been committed to green practices, including recycling, water use reduction and other conservation measures.
Last month, President Richard Rush put the University's ongoing commitment in writing by signing the American College & University Presidents' Climate Commitment.
During a ceremony in the CI Student Union courtyard, President Rush signed the document, making CI the ninth CSU to make the formal commitment to green practices.
"This is just another demonstration of CI's commitment to being an environmentally-friendly campus," said CI Associate Provost Daniel Wakelee, Ph.D. "We're demonstrating leadership among CSU campuses."
President Rush's signature joins a list of 697 other U.S. college and university presidents to date who have put a pen to the Presidents' Climate Commitment.
The Climate Commitment is an acknowledgement of deep concern about unprecedented climate change and a promise to take steps to reduce greenhouse gases and achieve a more stable climate. Doing so will help avert negative consequences on our health, environment, economics and social welfare, the document says.
"As our University continues to grow, it is essential that we remain good stewards of the environment," President Rush said. "Our mission as a university is to create promising futures for our graduates. We see this pledge to address climate change as part of that mission."
The CSU system has already taken steps to address climate change. There have been changes in the CSU executive order that mandate campus sustainability policies, Wakelee said.
CI already has numerous recycling practices, uses efficient lighting for its buildings and reclaimed water for irrigation, among numerous other green practices, but campus leaders are always looking for new ways to reduce carbon emissions.
"Our biggest challenge is going to be transportation," Wakelee said.
CI Chemistry Professor and climate change expert Simone Aloisio, Ph.D., stressed that climate change is the most significant environmental problem of our time.
"It affects almost every aspect of our lives," he said. "Pretty much the whole western half of the country is currently in drought.  These droughts are predicted to become more frequent, even more likely each decade."
Agriculture will be among the many parts of our lives affected, he said, and everybody's got to eat.  Climate change is also predicted to have an effect on the mobilization of toxic substances, such as mercury.
Aloisio said the campus is already doing a good job in many areas of sustainability. CI is among 353 "Green Colleges" listed in the Princeton Review.
Aloisio believes the campus could get even greener with a move toward renewable energy.
"We own a power plant and that power plant could use biofuels," Aloisio said. "If we could convert our plant to a biofuel plant, that would be a significant step. I think it's feasible now that biofuels are becoming competitive with traditional natural gas."
Aloisio believes the campus could team up with local emerging businesses that want to produce biofuels.
Aloisio said the campus does a good job integrating sustainability into the curriculum, which is one of the pledges listed in the document.
"We believe colleges and universities must exercise leadership in their communities and throughout society by modeling ways to minimize global warming emissions," the Climate Commitment reads, in part. "And by providing the knowledge and the educated graduates to achieve climate neutrality."
# # #
About California State University Channel Islands
CSU Channel Islands (CI) is the only four-year, public university in Ventura County and is known for its interdisciplinary, multicultural and international perspectives, and its emphasis on experiential and service learning. CI's strong academic programs focus on business, sciences, liberal studies, teaching credentials, and innovative master's degrees. Students benefit from individual attention, up-to-date technology, and classroom instruction augmented by outstanding faculty research. CI has been designated by the U.S. Department of Education as a Hispanic-Serving Institution and is committed to serving students of all backgrounds from the region and beyond. Connect with and learn more by visiting CI's Social Media.