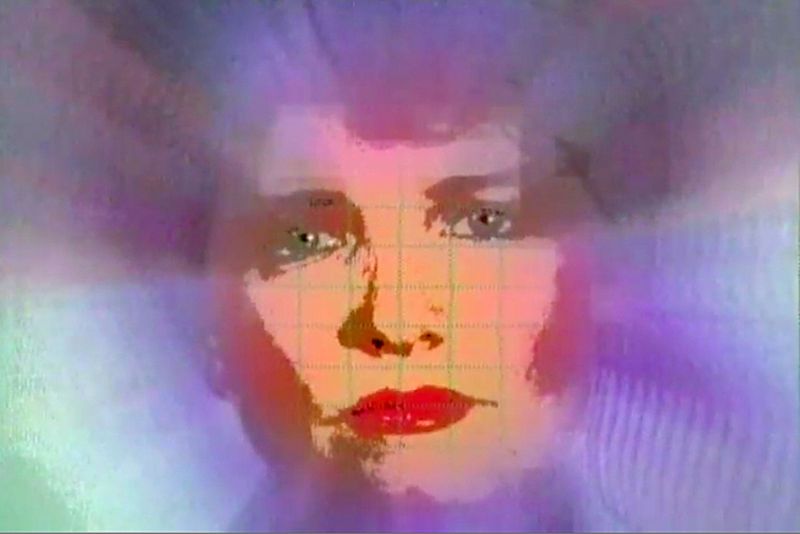 Camarillo, Calif., Sept. 17, 2015 – Long before everybody's phone doubled as a video camera, artists were experimenting with what was then a brand new medium: video.
From Sept. 28 through Oct. 24, the Art program at CSU Channel Islands (CI) will present an exhibition called "Video Art (1970-1990): The Long Beach Museum of Art Video Archive at the Getty Research Institute."
The show, which will be on display in the John Spoor Broome Library Art Gallery, marks the first collaboration between the Getty Research Institute (GRI) and CI's Broome Library Art Gallery.
CI Professor of Art History Irina D. Costache, the Broome Library Art Gallery Coordinator, believes this contemporary art form doesn't get as much exposure as it should. "We are very grateful to the Getty Research Institute for their support of this exhibition and we hope to continue this collaboration in the future."
"It's really important for students to understand there is a history to this medium and it's a rich history," she said. "It's important to understand how it was done before we had all these nifty little tools."
Glenn Phillips, the Getty Research Institute Curator of Modern and Contemporary Collections, said video was in its infancy in the late 1960s, becoming more common in Southern California in 1970, when California Institute for the Arts opened, and purchased 26 state-of-the-art portable video cameras, called Portapaks.
When video cameras finally became small and affordable enough to fit into our phones, it created a sociological shift, Phillips said. "In some very interesting ways, the early promise of video is only now becoming a reality," Phillips said. "Everyone can make their own television. Everyone can make their own personal media. This is going to allow us to subvert the structures of dominant media. We no longer have to depend on the dominant corporate structure for our television."
This is the second video art exhibition Costache has organized at CI. The first, which she curated in February of 2014, had an international flavor and included a collaboration with the Museum of Contemporary Art, Los Angeles.
The video art collection is originally from the Long Beach Museum of Art (LBMA), which is where guest curator of the current show, Kathy Rae Huffman, worked years ago.
"Artists have been working with video since the late '60s," she said. "They found it a unique medium with an immediate response, unlike film, which had to be developed."
The nine pieces on display in the exhibit are all diverse, documenting artists' takes on the social issues of the day, such as gender issues, information overload, the riots in Santa Barbara over the Vietnam War and one artist's take on what it was like to live near Skid Row in Los Angeles.
Huffman said those of us accustomed to manipulating video online and quick video edits will find the tempo and style of the pioneering video artists quite different. "It was more direct, more real-time," Huffman said. "A lot of the time the artists are speaking directly into the camera."
To appreciate video art and understand its uniqueness and subtleties requires considering the meaning and also the medium," Costache said, noting that the special effects in this video art were hard-won for the video pioneers, and not as easy as video manipulation is today.  "I'm really interested in how artists deal with the medium to create content," she said. "Some of the earliest video is so innovative for its time."
The nine videos will be shown on three pedestals bearing flat screens.
Showing video art is more challenging than showing more traditional art as it involves many more technical issues, but Costache believes the effort is important to make this medium and its history better-known to the general public and to students.
 "Moving images should have been a lot more in the forefront in the 20th century," she said. "I think we need to make an effort to give it its right place in the history of modern and contemporary art."
Artists in the show include: Max Almy, Nancy Angelo and Candace Compton, John Baldessari, Nancy Buchanan, Chris Burden, Gary Hill, Chip Lord and Mickey McGowen, Branda Miller and Ilene Segalove.
The gallery is located on the second floor of the John Spoor Broome Library at One University Drive on the CI campus. A free public reception will take place in the gallery on Tuesday, Sept. 29, from 5:30 – 7 p.m.  
Just prior to the reception, there will be a panel discussion on the artwork from 4 to 5 p.m. in Room 2550 Del Norte Hall on the CI campus. The panel will include: Glenn Phillips, Acting Head, Department of Architecture and Contemporary Art, Getty Research Institute Kathy Rae Huffman, guest curator of the show, and Nancy Buchanan, one of the artists. The panel will be moderated by Irina D. Costache, Professor of Art History and Broome Gallery Coordinator.
# # #
About California State University Channel Islands
CSU Channel Islands (CI) is the only four-year, public university in Ventura County and is known for its interdisciplinary, multicultural and international perspectives, and its emphasis on experiential and service learning. CI's strong academic programs focus on business, sciences, liberal studies, teaching credentials, and innovative master's degrees. Students benefit from individual attention, up-to-date technology, and classroom instruction augmented by outstanding faculty research. CI has been designated by the U.S. Department of Education as a Hispanic-Serving Institution and is committed to serving students of all backgrounds from the region and beyond. Connect with and learn more by visiting CI's Social Media.