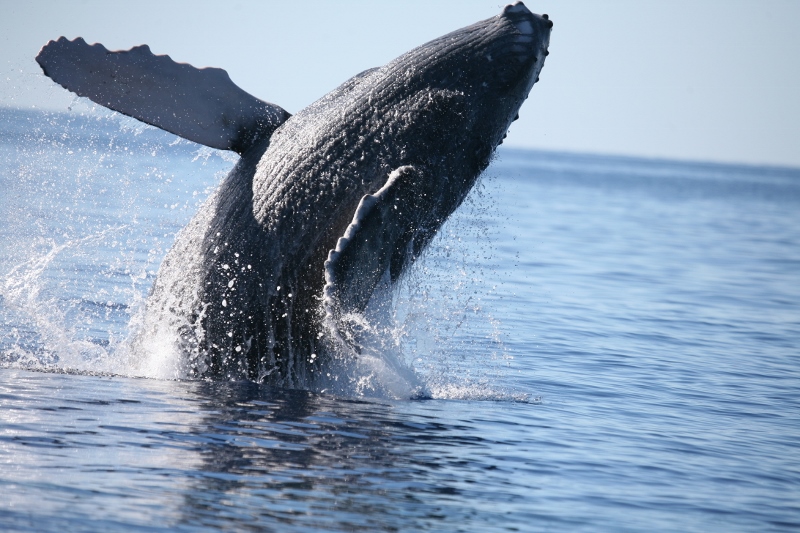 Camarillo, Calif., August 24, 2015 – The 2015 CSU Channel Islands (CI) Fall Library Series is taking two of its lectures to the Channel Islands Harbor.
In addition to a dozen free lectures at libraries throughout the county, CI's popular series will include two presentations at the CI Boating Center overlooking the harbor.
One lecture is about humpback whales and the other about the prehistory of coastal Ventura County.
"The lectures at the Boating Center are specifically connected to nature and the islands and what we're doing with our research center out on Santa Rosa Island," said the organizer of the lectures, Associate Vice President for Arts & Sciences, Karen Carey, Ph.D.  "Besides fascinating presentations, we want people in the community to explore the boating center and get to know all the activities that are available to them."
In addition to the lectures at the boating center, this fall's lineup boasts a dozen more presentations from CI faculty on everything from Irish music to Nazis to leadership skills to the psychological benefits of a relationship with God, to name just a few subjects.
CI faculty experts' lectures around the county will begin in September and last through December.
CI Boating Center
3880 Bluefin Circle
Channel Islands Harbor, Oxnard
All lectures are 6 to 7:30 p.m.
Sept. 24: "Humpback Whales: Gentle Giants of the North Pacific" by Biology Lecturer Rachel Cartwright, Ph.D.  Underwater video, recordings of whale songs and tales of a life spent researching whales will highlight a presentation by Cartwright, just back from her most recent whale research trip to Alaska.
Oct. 22: "The Human Prehistory of the Channel Islands and Coastal California: A 10,000-year Retrospective" by Assistant Professor of Anthropology Jennifer Perry, Ph.D. and Associate Professor of Anthropology Colleen Delaney, Ph.D.
Did you know the people of the Channel Islands, the Chumash and the Tongva, built plank canoes that were some of the most sophisticated watercraft in the Americas? Or that they manufactured a kind of shell/bead money circulated through California into historic times? Perry and Delaney will take us on a voyage through the still-untamed Channel Islands to find out about ancient Californians and why the islands are so important to us today.
E.P. Foster Library                                                 
651 East Main St.
Ventura, CA
All lectures are Wednesdays 5 to 6:30 p.m.
Sept. 16: "Good, Bad or Otherwise: Reliable Healthcare Internet Resources for Healthcare Information" by Assistant Professor of Nursing, Colleen Nevins, DNP.
Your doctor has diagnosed you, but you want to know more. Nevins will give tips on how separate the reliable from the bad or outdated science in the internet jungle.
Oct. 14: "The Growing Importance of Protected Areas to Urban Communities."
Environmental Science & Resource Management Professor Don Rodriguez, Ph.D., will discuss why we need to protect natural areas from the steady march of urban sprawl.
"Half the world's people live in cities and this proportion is expected to grow to 61 percent by 2030," Rodriguez said.  Rodriguez will detail some unique examples in which California communities, governments and investors have pulled together to protect these natural areas.
Nov. 18: "Learning to Lead," by Assistant Professor of Communication, Jacob Jenkins, Ph.D.  The ability to lead others is not one-size-fits all, according to Jenkins, who will take us through the five specific leadership styles, and talk about ways we can all develop our inner leader in today's society.
Blanchard Community Library
119 N. 8th Street
Santa Paula
All lectures are Thursdays 6 to 8 p.m.
Sept. 17: "Multicultural rubble: Foreign Troops in Nazi Germany" by Professor of History Rainer Buschmann, Ph.D.
To a group who saw themselves as a superior race, it would seem strange that Nazis would enlist multicultural, non-German troops after 1942. Dr. Buschmann will discuss the motives for enlisting Indian, Muslim and Southeast Asian soldiers and let us know about their fate after World War II.
Oct. 15: "Chicanas and Chicanos on the Move: Student Activism in Ventura County, 1965 to 1975."
Professor of History Frank Barajas, Ph.D., speaks about how Latina/o student activists of the 1960s and '70s helped shape a more integrated Ventura County.
Nov. 19: "Some Psychological Benefits of a Secure Relationship with God" by Professor of Psychology Harley Baker, Ph.D.
For centuries, advocates of religion have argued that a belief in God brings significant psychological benefits whereas opponents have maintained that religion is harmful to one's mental health. Baker will point to empirical evidence that suggests a relationship with God is beneficial, but a lot depends on the quality of that relationship.
Dec. 10: "How I Made a Robot, Skinny Legs and All" by Assistant Professor of Computer Science David Claveau, Ph.D.
There are plenty of robots on wheels, but Claveau designed and built a walking robot with 3-D printing, flexible electronics and other modern tools that won't break the bank.
Simi Valley Public Library
2969 Tapo Canyon Road
Simi Valley
All lectures are Sundays 2 to 3 p.m.
Sept. 20: "­Just Who Shares the Planet with Us? Exploring Biodiversity – Examples of Fishes and Other Creatures."
Biology Lecturer Steve Norris, Ph.D. will give us a glimpse into the vast non-human diversity on Earth with examples of how many types of fish are keeping us company on the planet.
Oct. 18: "From Ireland to New York to Los Angeles: One Irish-American's Journey into Celtic-fusion Music," by Assistant Professor of Performing Arts Paul Murphy, who holds a Doctorate in Musical Arts.
This professional musician/educator will share the musical epiphany he experienced when visiting Ireland in 1998. He came back home and created the Paul Murphy Celtic Project CD, a fusion of traditional Celtic, jazz, blues and rock. The lecture includes a live performance with a special guest.
Nov. 15: "Environmental Impacts on Santa Rosa Island" by Ecology Lecturer Brett Hartman, Ph.D.
What happens when we remove pigs, sheep and cattle from Santa Rosa Islands? Hartman will discuss the fragile ecology of the island and the efforts to restore endangered plants.
Grant R. Brimhall Library
1401 E. Janss Road
Thousand Oaks
All lectures are Tuesdays 7 to 8:30 p.m.
Oct. 13: "Issues Surrounding the Declaration of Brain Death" by Associate Professor of Health Sciences Carol Mack, Ph.D.
A person who is brain dead is dead, according to all jurisdictions in the United States. But what does that mean from a physiological perspective? Dr. Mack will detail the difference between brain death and other conditions such as coma and a persistent vegetative state.
Nov 10: "Logistics and Labor: Recent Developments at West Coast Ports" by Assistant Professor of Sociology Elizabeth Sowers, Ph.D.
Almost half of the country's imports move through the ports of Los Angeles and Long Beach. The massive ships and complex machinery of Southern California ports make up part of the logistics industry, which is the circulatory system for our local and global economy. Sowers will shed light on this process and changes in the labor environment at some of these crucial West Coast ports.
Newbury Park Branch Library
2331 Borchard Rd.
Newbury Park
Lecture is Tuesday 7 to 8:30 p.m. 
Dec. 8: "Through the Looking Glass: A Chemist's Perspective on Lewis Carroll" by Professor of Chemistry Philip Hampton, Ph.D.
Hampton will use author/mathematician Lewis Carroll's Looking Glass House to explain the "handedness" of molecules and the connection this has to the thalidomide tragedy of the 1950s that resulted in numerous birth defects in children. The presentation will include a hands-on activity with gum drops and a 3-D demonstration.
# # #
About California State University Channel Islands
CSU Channel Islands (CI) is the only four-year, public university in Ventura County and is known for its interdisciplinary, multicultural and international perspectives, and its emphasis on experiential and service learning. CI's strong academic programs focus on business, sciences, liberal studies, teaching credentials, and innovative master's degrees. Students benefit from individual attention, up-to-date technology, and classroom instruction augmented by outstanding faculty research. CI has been designated by the U.S. Department of Education as a Hispanic-Serving Institution and is committed to serving students of all backgrounds from the region and beyond. Connect with and learn more by visiting CI's Social Media.