Camarillo, Calif., Dec. 7, 2015 – CSU Channel Islands (CI) Vice President for Student Affairs, Wm. Gregory Sawyer, Ph.D., has been honored by the National Association of Student Personnel Administrators (NASPA).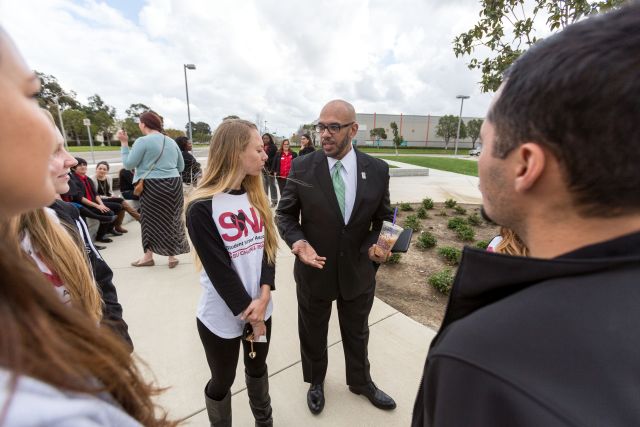 NASPA, Student Affairs Administrators in Higher Education, named Sawyer one of 14 "Pillars of the Profession" for 2016. NASPA is the leading association for student affairs professionals in higher education. Each year, NASPA selects a "class" of student affairs professionals from across the U.S. who have distinguished themselves in their careers.
"Greg is a visionary, who works well with people across campus. He is a solid and inspirational leader and a go-getter," said former CI faculty member Ching-Hua Wang, now Dean of the School of Health and Natural Sciences at the Dominican University of California. "Throughout his career, he has mentored numerous students and colleagues and many of them have become outstanding leaders themselves."
Wang is among three peers who nominated Sawyer for the honor. Pillars are peer- nominated and peer-selected.
"I am humbled to receive this recognition," Sawyer said. "It is an incredible feeling to know that the work you've done, and loved, for more than 30 years has been noticed and appreciated by your peers."
There is power behind the 2016 Pillars as donations can be made in any one of their names. A gift made in Sawyer's name, for example, will be accepted by NASPA and go to benefit the student affairs profession in the form of grants, scholarships and awards to help undergraduates interested in a career in student affairs.
"Each Pillar receives a list of those who gave in his or her honor," said Lucy Fort, Assistant Director of Educational Programs & NASPA Foundation. "They are often moved to see the long list of friends, family and colleagues who have helped celebrate their nomination."
Sawyer will receive the list of those who donated in his name when he and the other 2016 Pillars are honored at the 2016 NASPA Annual Conference in Indianapolis, Indiana in March. To make a donation to NASPA in Sawyer's name, visit: http://www.naspa.org/foundation/pillars-of-the-profession
# # #
About California State University Channel Islands
CSU Channel Islands (CI) is the only four-year, public university in Ventura County and is known for its interdisciplinary, multicultural and international perspectives, and its emphasis on experiential and service learning. CI's strong academic programs focus on business, sciences, liberal studies, teaching credentials, and innovative master's degrees. Students benefit from individual attention, up-to-date technology, and classroom instruction augmented by outstanding faculty research. CI has been designated by the U.S. Department of Education as a Hispanic-Serving Institution and is committed to serving students of all backgrounds from the region and beyond. Connect with and learn more by visiting CI's Social Media.