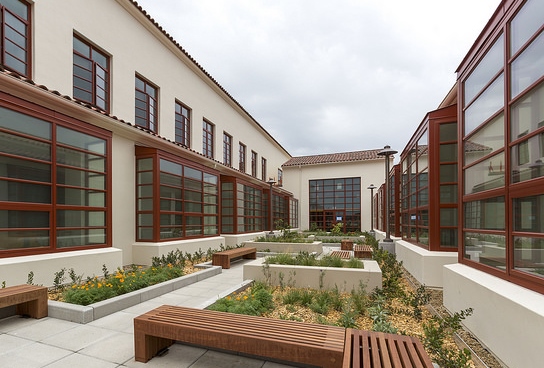 Camarillo, Calif., August 27, 2015 – CSU Channel Islands (CI) invites the public to attend the grand opening of Sierra Hall, a three-story, 68,000 square-foot building designed to house the University's science programs.
"I think the community will be as proud as we are of this efficient, sustainable state-of-art building where our science and technology students will be educated with cutting-edge labs and classrooms," said President Richard R. Rush.
The ribbon-cutting ceremony for the newest addition to the campus will be Tuesday, Sept. 15 from 10 to 11:30 a.m. at Sierra Hall, which is at the corner of Los Angeles Avenue and Ventura Street on the CI campus.
Sierra Hall will house CI's expanding programs in Anthropology, Computer Science, Environmental Science & Resource Management, Physics, and Psychology.
Previously, some of these departments were using spaces that were not designed to be labs, according to CI Associate Provost Dan Wakelee, Ph.D.
"We could not accommodate the increased enrollment this fall without the addition of Sierra Hall," Wakelee said. "This building allows CI to accommodate our current enrollment as well as our growing student population in the coming years. This also enables the campus to convert spaces elsewhere that were being used as lab space back into classrooms."
Sierra Hall was built with an eye toward present and future needs of each science program, according to Jim Walsh, Associate Director of Planning, Design & Construction, so designers made each laboratory and classroom as multi-faceted and flexible as possible.
"People change and technology changes," Walsh said. "It's always a challenge to envision what the technology will be like 10 years from now."
The new building has science labs designed for collaborative and individual learning and multi-mode lecture halls, classrooms and offices.
Sierra Hall is a model of sustainability, meeting LEED Gold and CALGreen Tier 2 standards, which are superior ratings awarded by national and state organizations that encourage energy-efficient building.
The building is made from recycled and renewable building materials and energy-efficient windows, heating and cooling systems.
Lighting controls shut off when no one is in the room and make maximum use of sunlight, earning the building an $82,000 rebate from Southern California Edison.
Director of Planning, Design & Construction John Gormley said the building was designed to invite both indoor and outdoor instruction, including roof terrace gardens.
"We looked for opportunities to create spaces for students to gather for informal learning," Gormley said.
The $42.7 million project was funded with lease revenue bonds, which are long-term bonds issued by the state to finance public improvements to California universities and other state facilities.
Complimentary parking in the A3 parking lot will be provided. Shuttles will be running from the parking lot to the event location.  RSVP at: go.csuci.edu/sierrahalldedication
For additional information contact events@csuci.edu or 805-437-3900.
# # #
About California State University Channel Islands
CSU Channel Islands (CI) is the only four-year, public university in Ventura County and is known for its interdisciplinary, multicultural and international perspectives, and its emphasis on experiential and service learning. CI's strong academic programs focus on business, sciences, liberal studies, teaching credentials, and innovative master's degrees. Students benefit from individual attention, up-to-date technology, and classroom instruction augmented by outstanding faculty research. CI has been designated by the U.S. Department of Education as a Hispanic-Serving Institution and is committed to serving students of all backgrounds from the region and beyond. Connect with and learn more by visiting CI's Social Media.