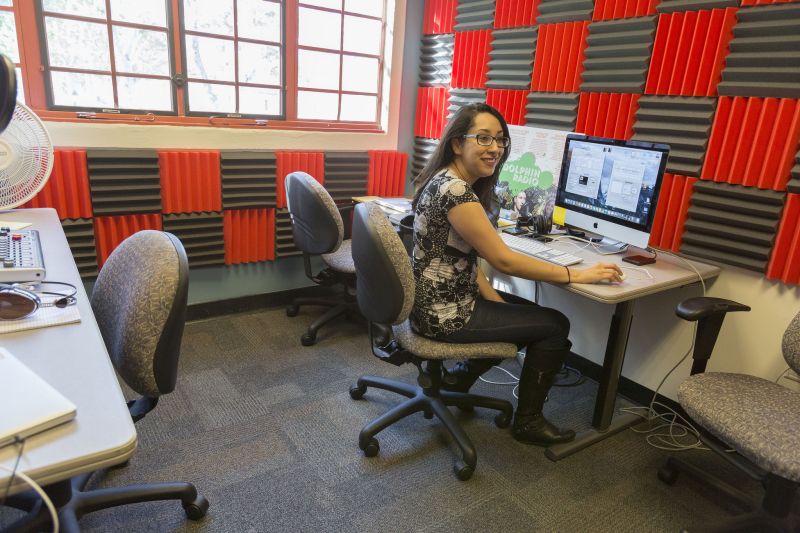 Dolphin Radio
Camarillo, Calif., April 20, 2016 — CSU Channel Islands (CI)'s first-ever student-run radio station is on the air.
Visit CI Dolphin Radio at Tune In and you'll hear CI students airing a mix of music, podcasts, lectures, campus announcements, and a wealth of original programming that continues to evolve in this brand new venue.
Dolphin Radio funding comes from a partnership between the Communication program and CI's Communication & Marketing office, but Communication Assistant Professor Christina Smith, Ph.D., credits student station manager Kayla Garcia for doing the heavy lifting that got the station off the ground.
"There was finding the material, scheduling the material, uploading the material, and all the minutiae it takes to run a radio station," Smith said. "We're so grateful for her hard work."
Garcia in turn thanked Smith for all her help managing the station, advertising around campus and maintaining the social media platforms, to name just a few of her duties.
"Overall it has been an exciting and educational experience being a part of the radio station and I enjoy seeing the radio flourish from the ideas and hard work of the students who worked on the radio station before me," Garcia said.
An Open House attended by about 100 people was held outside the Dolphin Radio studios on the second floor of the Bell Tower a few hours after the station went live at 9 a.m. on April 11, 2016.

Chair and Associate Professor of Communication Tracylee Clarke, Ph.D., and CI Provost Gayle Hutchinson, Ed.D., said the station will enable students to learn station management, marketing, promotions and journalistic storytelling, to name a few educational opportunities.
Of particular note is a Communication capstone course taught by Assistant Professor of Communication Nien-Tsu "Nancy" Chen, Ph.D.
"We have a capstone course in which students are producing podcasts of original content," Chen said. "They will be stories about CI that will be of interest to students, faculty and staff."
Chen is also teaching a course about community-based storytelling in which students are gathering stories in the surrounding community focusing on subjects like student debt, health and wellness, careers and sustainability. The students' podcasts will be ready for air in May.
Some of the students who spoke at the Open House were specific about their projects.
CI student Sam Moody is doing a podcast on pesticide use in the area. Moody said his curiosity was piqued when he saw agricultural workers in protective gear spraying crops and wanted to look into it a little more with farmers as well as experts in chemistry and biology.
Jacqueline Montoya, who hopes to become a sports broadcaster, was immediately drawn to Dolphin Radio.
Montoya is a new transfer student who became fascinated with how much was available at the John Spoor Broome Library, so she is putting together a podcast on all the library offers, including a multi-literacy and writing center.
Her minor in Performing Arts is what inspired Communication major Nicole Smith to color outside the lines a bit and create a fictional radio drama set in Camarillo in the 1950s.
"I've been trying to make it a collaborative project," she said. "I've been bringing in students from the Theater program to do voices and am working with the English program to help with the script."
All CI students are welcome to get involved in Dolphin Radio. For more information or to volunteer, contact Christina Smith at christina.smith@csuci.edu.
# # #
About California State University Channel Islands
CSU Channel Islands (CI) is the only four-year, public university in Ventura County and is known for its interdisciplinary, multicultural and international perspectives, and its emphasis on experiential and service learning. CI's strong academic programs focus on business, sciences, liberal studies, teaching credentials, and innovative master's degrees. Students benefit from individual attention, up-to-date technology, and classroom instruction augmented by outstanding faculty research. CI has been designated by the U.S. Department of Education as a Hispanic-Serving Institution and is committed to serving students of all backgrounds from the region and beyond. Connect with and learn more by visiting CI's Social Media.