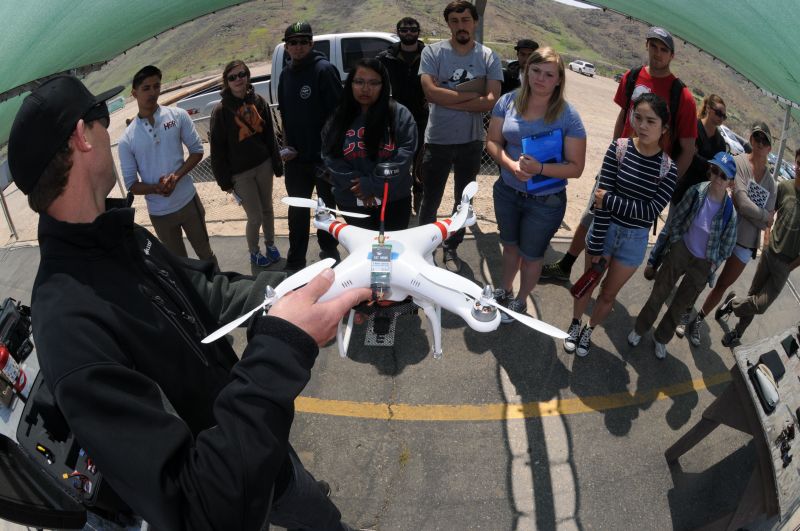 Federal Aviation Administration
Camarillo, Calif., May 6, 2016 — CSU Channel Islands (CI) students and faculty are celebrating news that came down this week from the Federal Aviation Administration (FAA) concerning teaching and operation of unmanned aerial vehicles (UAV) by students.
The FAA has declared that students using UAVs in an accredited educational setting are now classified as "hobbyists," which means they have more freedom to fly UAVs without as many restrictions.
"This is great news for the University," said Senior Research Officer Jason Miller, Ph.D. "We've been preparing for the day that students could learn to operate UAVs in the context of for-credit courses in array of programs across our university, and it looks like that day is upon us."
The FAA made the announcement May 4 at the Association for Unmanned Vehicle Systems International Conference in New Orleans. The passage affirming student drone usage supports, in part: "student use of unmanned aircraft in furtherance of receiving instruction at accredited educational institutions."
Associate Professor of Environmental Science & Resource Management (ESRM) Sean Anderson, Ph.D., is thrilled to see the restrictions relaxed as the ESRM program has a rapidly-growing drone instruction program and houses its Aerial and Aquatic Robotic Research group.
Those conducting academic research or working for for-profit companies must still rely upon their special permissions from the FAA in the form of a Certificate of Authorization or a Section 333 Exemption, for example. Or, the institution or business can become partners with an entity that already has a waiver.
Miller and Anderson said the new classification is also good news for other disciplines.
"No longer does the art professor teaching photography, the biology professor instructing students in measuring animals from afar without disturbing them, nor the dance students hoping to record their in-progress dance routines from a higher vantage point need to suffer the burden of hiring their own airplane pilot to stand next to them while they operate their $50 camera-equipped drone than can fit in the palm of their hand," Anderson said.
Biology Lecturer and whale expert Rachel Cartwright, Ph.D. says this opens up teaching possibilities as she tracks whales along the California coast and in Hawaiian waters where she takes undergraduates each spring.
"Using small UAVs to track and monitor large whales is opening up a whole new realm in marine mammal research. These changes will allow us to train students in this exciting new technology."
Assistant Professor of Biology and marine eco-physiologist Geoff Dilly, Ph.D. is eager to see how this FAA decision on drones will help him teach students about invertebrate ecology, physiology, and global ocean change in intertidal environments.
"Aerial surveys of dynamic coastal zones will add a whole new dimension to our instruction," Dilly said.
# # #
About California State University Channel Islands
CSU Channel Islands(CI) is the only four-year, public university in Ventura County and is known for its interdisciplinary, multicultural and international perspectives, and its emphasis on experiential and service learning. CI's strong academic programs focus on business, sciences, liberal studies, teaching credentials, and innovative master's degrees. Students benefit from individual attention, up-to-date technology, and classroom instruction augmented by outstanding faculty research. CI has been designated by the U.S. Department of Education as a Hispanic-Serving Institution and is committed to serving students of all backgrounds from the region and beyond. Connect with and learn more by visiting CI's Social Media.