Camarillo, Calif., Feb. 22, 2016 — A collection of three exhibits in Napa Hall and another in the John Spoor Broome Library Gallery invite visitors to consider nature, human facades, horses, houses and the complicated relationship human beings have with the environment.
"Of Houses and Horses" will open Feb. 29 and run through March 10 and "Facades" and "Fire and Ice" opens Feb. 29 and runs through March 25. The opening reception for all three exhibits is on Thursday, March 3 from 6 to 8 p.m. in CI's Napa Hall.
"Following the Autographic Line" and "Lenten Drawings" by Santa Barbara artist and art educator Marie Schoeff will open Feb. 22 and run through April 3 with an opening reception in the John Spoor Broome Library Gallery on Feb. 25 from 5 to 7 p.m. with an artist's talk.
John Spoor Broome Library Gallery: "Following the Autographic Line" and "Lenten Drawings" by Marie Schoeff: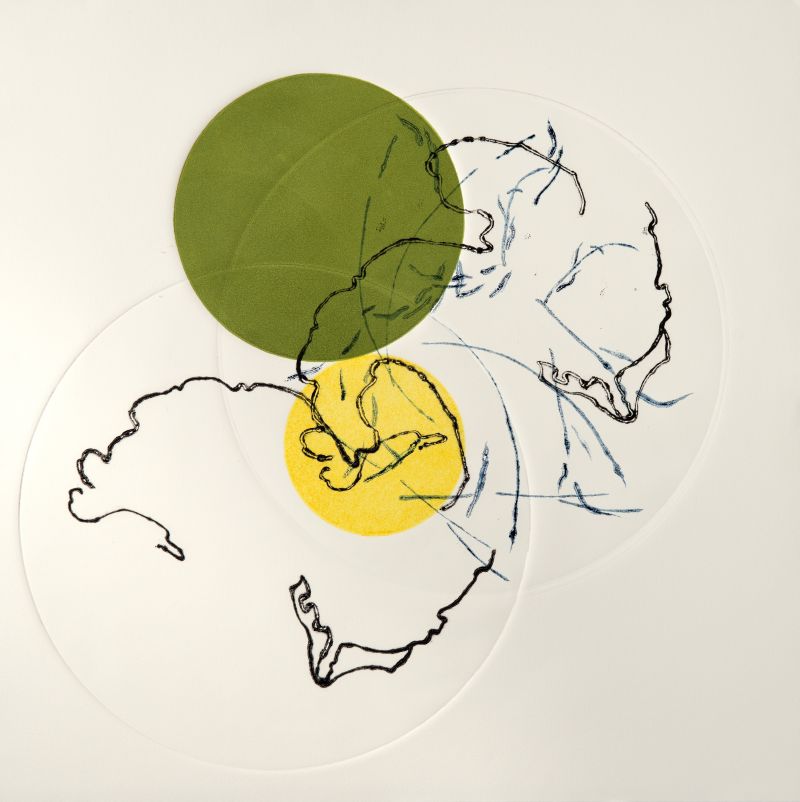 When she creates a drawing in paint or ink, Santa Barbara artist Marie Schoeff's eyes are more focused on her subject than on the lines of her paper.
She guides the brush or pen in her hand with her eyes following the tumble of a stream or the slope of a branch.
"As my eye follows the line, my hand follows my eye," Schoeff said. "When I make these lines, my process is as important as my product."
Schoeff's abstract art, called "mark-making," expresses what she has seen or experienced through her lines or traces.
"A hand-drawn line is very direct and individual, similar to what a person reveals with their voice when they sing," she said. "If you have a particular sound that comes from your voice, there is a uniqueness there that is similar to what comes from your hand when you make marks."
"I think it's a spiritual practice and a way to see the world more attentively," said show curator Anette Kubitza, Ph.D., Art Lecturer. "It's a more conscious way of seeing the world."
Napa Hall Gallery: "Of Houses and Horses" by Karen Swildens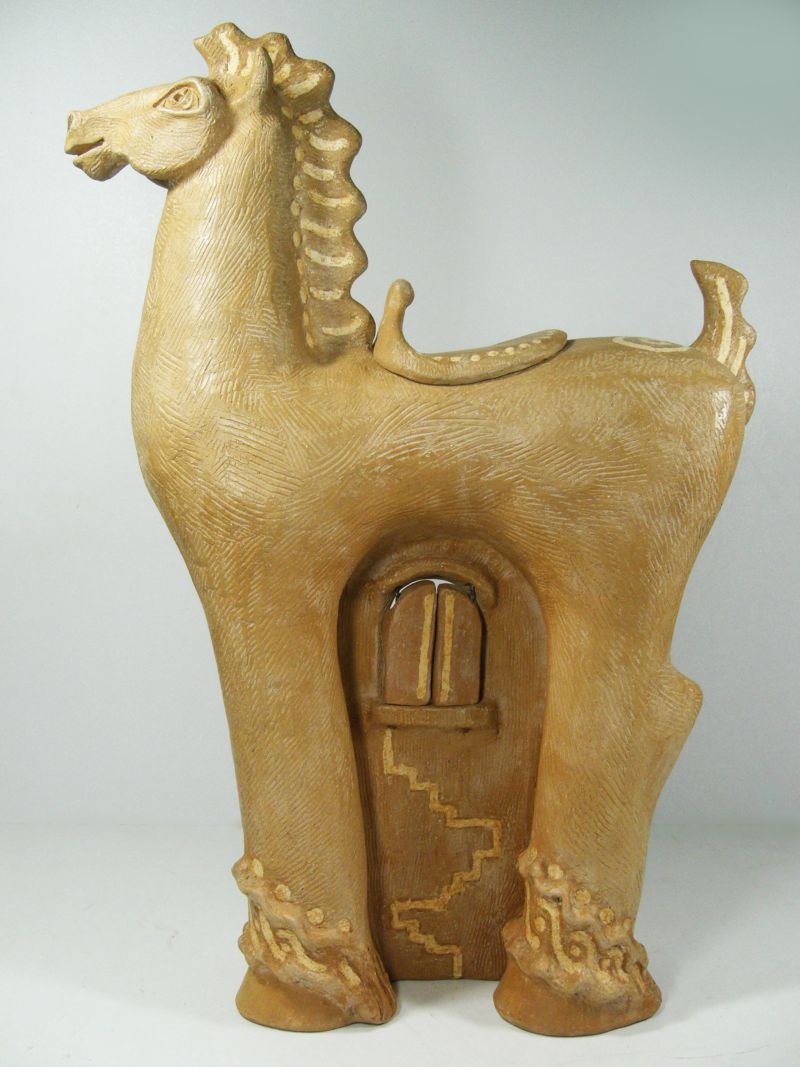 Horses have been ceramicist Karin Swildens' friends forever, she said, whether they be real horses or dream horses. "They can tell the story. Some are stubborn, some proud, some aloof, some too young, too cautious or they believe they can fly," she said. "Some are furious and some full of wisdom and domestication. But all have intuition and strength and reflect my thoughts."
Born in the Netherlands and raised in Morocco, the Los Angeles artist discovered a passion for drawing early in her life, then began carving wood. She discovered clay in the 1980s.
After studying art in Paris, she helped with the restoration of paintings in the Louvre Museum, designed scarves for Hermes, and later was author and illustrator of a children's book called "Poutou and Pitchoun."
This ceramic exhibition shows her work on Horses, and Houses, a series that began in 1995 which she originally named "Doors."
"The 'doors' became my way to let go, go through and go on…and on…and on," she said.
Napa Hall Gallery: "Fire and Ice" by Sharon Coughran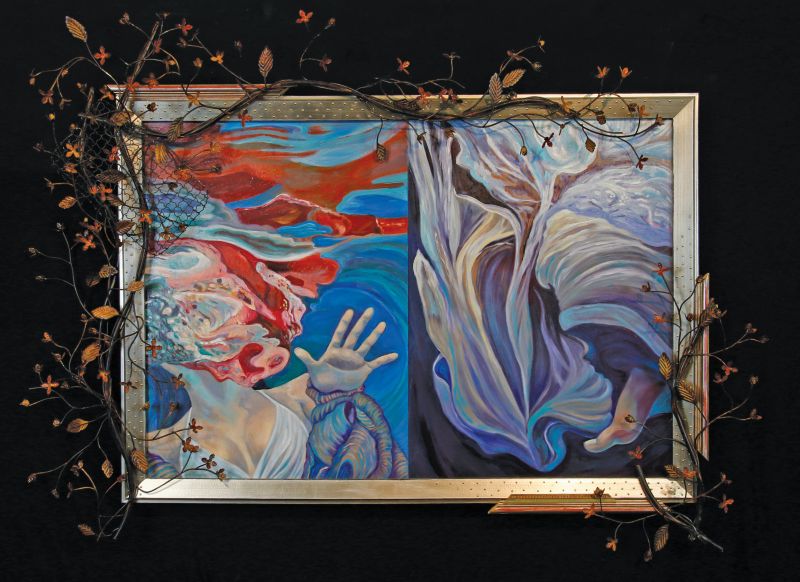 CI Art Lecturer Sharon Coughran tackles the complex relationship between humankind's tendency toward both the constructive and destructive use of natural resources.
Experienced in mixed media, illustration, painting, drawing and digital arts, Coughran has exhibited throughout the U.S. and Japan.
"Fire and Ice" depicts the four elements—earth, wind, fire and water—to illustrate the tension between the fragility of the ecosystem and the struggle to maintain the balance of the environment.
Coughran uses the female form through the ages to represent Mother Nature and the need to preserve her majesty.
Napa Hall Grad Wall: "Facades" by Annie De Bruyn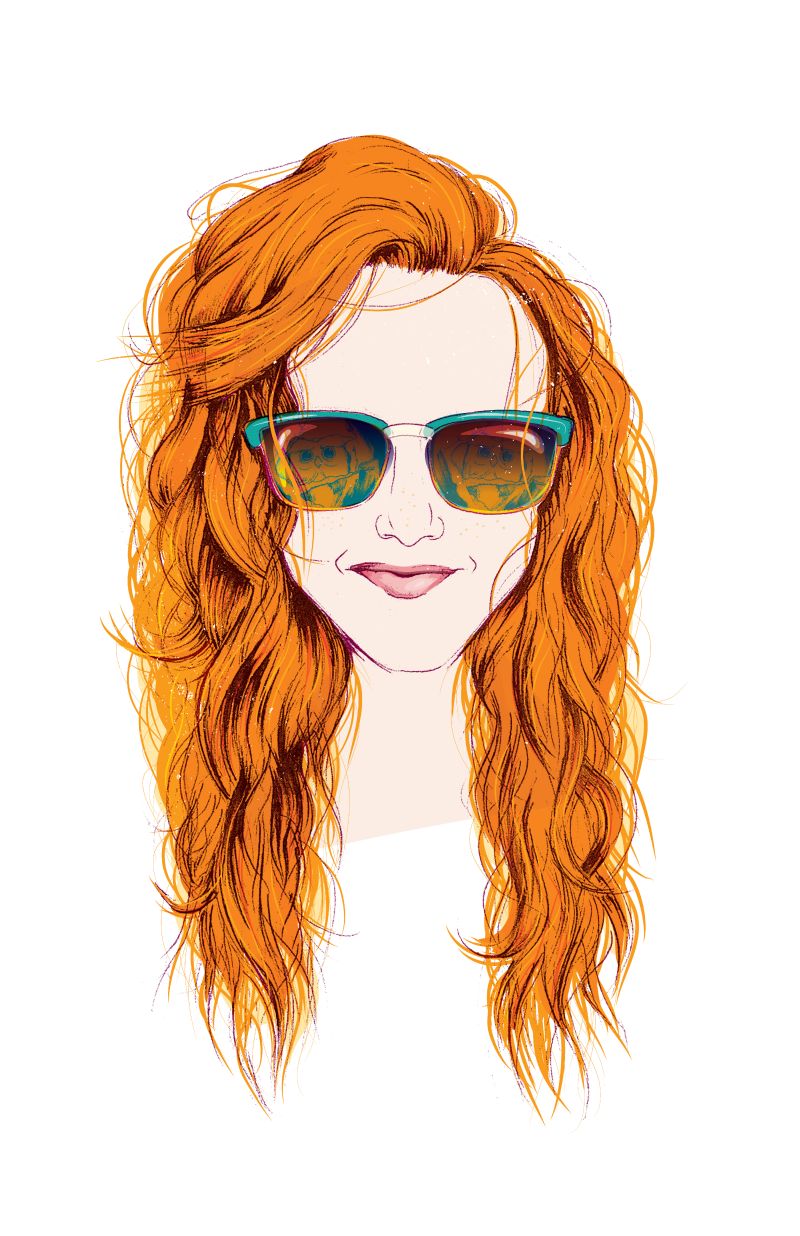 With an eye for detail and an overt nod to retro '80s flair, CI art grad student Annie De Bruyn asks the artistic question: How are people perceived on the surface, and how does that compare to their truest selves?
"Through these portraits, we find that up close, a person's story is often more meaningful than we imagine them to be when we're just casually observing their 'façade,'" she said.
De Bruyn created her quirky cast of characters with hand-drawn pieces that she then layered with digital colorization.
Using simplified linear features, De Bruyn strives to capture the real identity behind each character's façade.
For additional information about all four exhibits, call 805-437-2772.
# # #
About California State University Channel Islands
CSU Channel Islands (CI) is the only four-year, public university in Ventura County and is known for its interdisciplinary, multicultural and international perspectives, and its emphasis on experiential and service learning. CI's strong academic programs focus on business, sciences, liberal studies, teaching credentials, and innovative master's degrees. Students benefit from individual attention, up-to-date technology, and classroom instruction augmented by outstanding faculty research. CI has been designated by the U.S. Department of Education as a Hispanic-Serving Institution and is committed to serving students of all backgrounds from the region and beyond. Connect with and learn more by visiting CI's Social Media.