Camarillo, Calif., Feb. 12, 2016— CSU Channel Islands (CI) President Richard R. Rush will take the pulpit of St. Paul Baptist Church this Sunday for his last Super Sunday speech as president of CI.
President Rush's last Super Sunday address will be Feb. 14 at 11 a.m. at the church, which is at 1777 Statham Blvd. in Oxnard.
"I am filled with a sense of gratitude that God orchestrated such a wonderful relationship with Dr. Rush," said Bishop Broderick Huggins, the pastor of St. Paul. "Dr. Rush's influence and his heart for the African American community really touches me. He is genuine and he is honest in his commitment to increasing the African American student population at CI."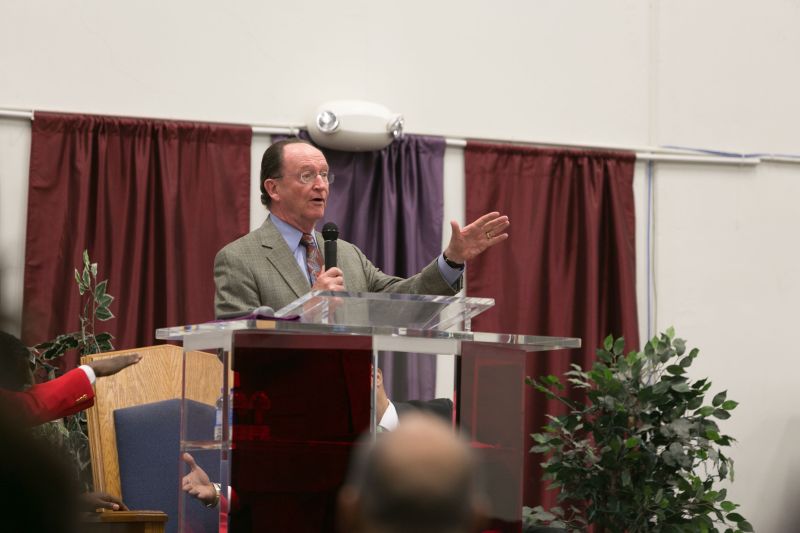 Now in its eleventh year, CSU Super Sunday is a CSU program designed to light the way to higher education for African American students and their families.
On one or two Sundays each February, leaders from all 23 campuses visit 100 African American churches to talk about the value of higher education.
Super Sunday is part of the CSU African American Initiative, which was launched in 2005 to increase the preparation and retention of African Americans—especially males—throughout the University system.
President Rush and the other CSU leaders will stress the value of a college degree and share information about financial aid and academic preparation opportunities.
Bishop Huggins said he appreciates how President Rush has encouraged African American students to serve their community, which helps them form a sense of social responsibility along with their academic development.
"Dr. Rush has been an absolute jewel in this community and we are going to miss him," Huggins said.
# # #
About California State University Channel Islands
CSU Channel Islands (CI) is the only four-year, public university in Ventura County and is known for its interdisciplinary, multicultural and international perspectives, and its emphasis on experiential and service learning. CI's strong academic programs focus on business, sciences, liberal studies, teaching credentials, and innovative master's degrees. Students benefit from individual attention, up-to-date technology, and classroom instruction augmented by outstanding faculty research. CI has been designated by the U.S. Department of Education as a Hispanic-Serving Institution and is committed to serving students of all backgrounds from the region and beyond. Connect with and learn more by visiting CI's Social Media.