Camarillo, Calif., March 22, 2016 — CSU Channel Islands (CI) surfers will hang ten and spectators can hang around and watch Thursday, March 31 at Oxnard Beach Park during the CSU Channel Islands Surf Club's Third Annual Cesar Chavez Beach Day and Surf Contest.
The surf contest and beach day will be from 8 a.m. to 4 p.m. at 2601 South Harbor Boulevard in Oxnard.  CI surfers participating in the contest need to be at the beach by 8 a.m. but for any CI students, faculty, staff, alumni, or the public who want to watch, feel free to show up anytime.
"This is just to get alumni, students, faculty and administration together to have a good day at the beach," said CI Surf Club president Kevin Piper.
Piper added that the public is welcome to come and enjoy the day, too. Those who aren't surfing are invited to watch the competition, play bocce ball, volleyball, throw Frisbees or just enjoy the sun, sand and sea.
Piper and event coordinator Austin Finley say the Club's "pet competition" is just about fun, not fundraising.
"No one has to buy anything," Finley said. "It's just for fun. People can just come and hang out."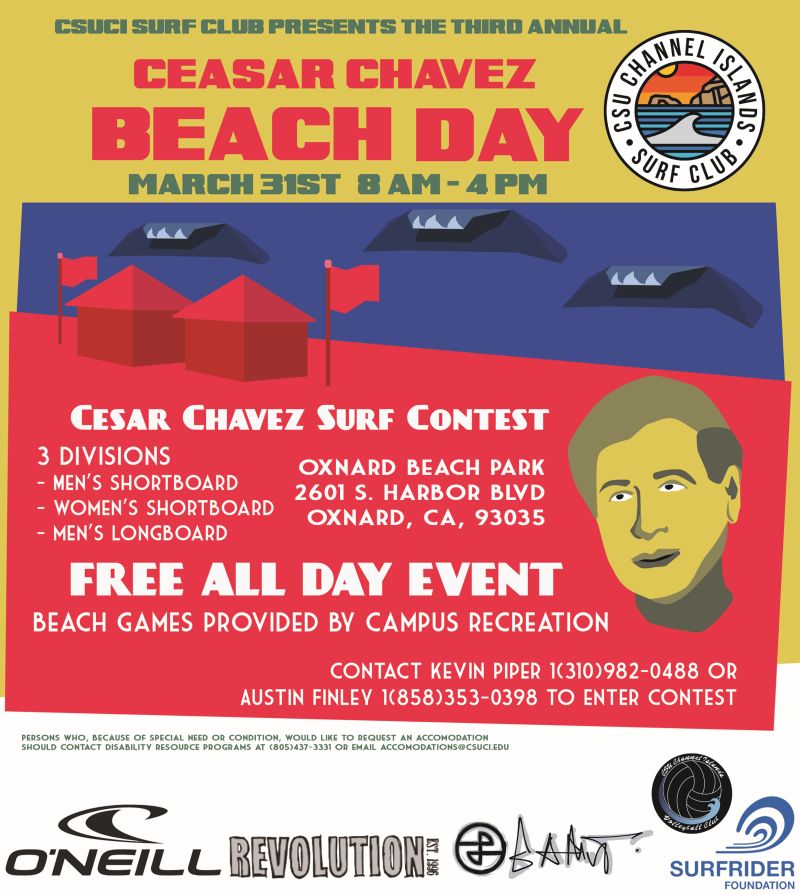 The surf competition will include about 35 CI student and alumni surfers who will compete in series of heats. Custom-made trophies and prizes, courtesy of Revolution surf shop in Camarillo, will be awarded at the end of the day.
There will be a number of side activities going on throughout the day. CI's volleyball club will show up to play a game and surfers will be giving informal lessons with foam top surfboards.
There will be a "Legacy" spotlight heat from judges and other veteran surfers in the middle of the competition.
Piper said last year's event drew about 150 people and this year club members are hoping for even more.
Interested CI students who want to participate in the surf competition can send a text message to Piper at 310-982-0488 or email Finley at steven.finley033@myci.csuci.edu.
# # #
About California State University Channel Islands
CSU Channel Islands (CI) is the only four-year, public university in Ventura County and is known for its interdisciplinary, multicultural and international perspectives, and its emphasis on experiential and service learning. CI's strong academic programs focus on business, sciences, liberal studies, teaching credentials, and innovative master's degrees. Students benefit from individual attention, up-to-date technology, and classroom instruction augmented by outstanding faculty research. CI has been designated by the U.S. Department of Education as a Hispanic-Serving Institution and is committed to serving students of all backgrounds from the region and beyond. Connect with and learn more by visiting CI's Social Media.