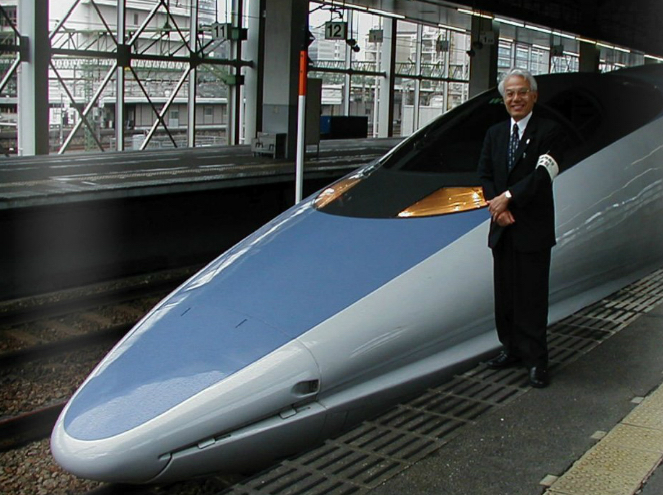 Camarillo, Calif., March 10, 2017 — Japan's Shinkansen train system or "bullet trains" shoot over tracks and through tunnels at speeds in excess of 300 miles per hour, transporting more than 10 billion people in the network's 53-year history.
The engineer who took his cues from nature when redesigning the bullet train, Eiji Nakatsu, will speak from 12 to 1:30 p.m. on Tuesday, March 14 in Bell Tower Room 2598.
Nakatsu used a form of science called "biomimicry" when he redesigned the bullet trains, which were first introduced to Japan in 1964 and underwent periodic redesigns.
Biomimicry is the science of looking to the design of the natural world to create things that are useful for humans.
Nakatsu was the general manager of the technical development department for the so-called bullet trains in 1997, when the company sought to make the trains faster, quieter and more efficient.
Studying birds and features like the kingfisher bill and the noise-reduction qualities of an owl's feathers helped Nakatsu and his team develop the next generation of bullet trains.
The series of events that led Nakatsu to visit Ventura County and CSUCI began at Lang Elementary School in Thousand Oaks.
Elementary School teacher Kristen Nordstrom was fascinated with biomimicry and began teaching it after school to children interested in learning more and creating hands-on projects.
"It was a love of science and a love of nature that came together," Nordstrom said. "I kept sharing it with my students and they loved it. I decided to offer it as a class after the school day twice a week for an hour."
The 34 six-and seven-year old students in the class became interested in the bullet trains, so Nordstrom contacted Nakatsu in Japan and arranged to have them ask questions via the web. The students were so interested that Nordstrom applied for funding from the Japan Foundation in Los Angeles and was able to arrange for Nakatsu to visit the U.S. to speak to her class.
While looking for other speaking opportunities for Nakatsu, Nordstrom contacted CSUCI Professor of English Brad Monsma, Ph.D. and Art Lecturer Amiko Matsuo. Nordstrom was aware Monsma and Matsuo had been involved in projects and research in Japan that were based on art and the environment. The pair had translated "Art Place Japan: The Echigo-Tsumari Art Triennale and the Vision to Reconnect Art and Nature" (Princeton Architectural Press, 2015).
Monsma then arranged to have Nakatsu speak at CSUCI with sponsorship from the Chemistry, Mechatronics, English, Environmental Science & Resource Management programs, and the Center for Integrative Studies.
"I'm teaching environmental literature," Monsma said. "Part of the narrative of that course is that so many writers and thinkers look to connect nature and culture with science and the humanities."
The presentation is free and open to the public.
Limited parking is available on campus with the purchase of a $6 daily permit; follow signs to the parking permit dispensers. Free parking is available at the Camarillo Metrolink Station/Lewis Road with bus service to and from the campus.  Riders should board the CSUCI Vista Bus to the campus; the cash-only fare is $1.25 each way. Buses arrive and depart from the Camarillo Metrolink Station every 30 minutes from 7 a.m. to 10 p.m. Monday through Friday. For exact times, check the schedule at www.goventura.org.
# # #
About California State University Channel Islands
CSU Channel Islands (CI) is the only four-year, public university in Ventura County and is known for its interdisciplinary, multicultural and international perspectives, and its emphasis on experiential and service learning. CI's strong academic programs focus on business, sciences, liberal studies, teaching credentials, and innovative master's degrees. Students benefit from individual attention, up-to-date technology, and classroom instruction augmented by outstanding faculty research. CI has been designated by the U.S. Department of Education as a Hispanic-Serving Institution and is committed to serving students of all backgrounds from the region and beyond. Connect with and learn more by visiting CI's Social Media.