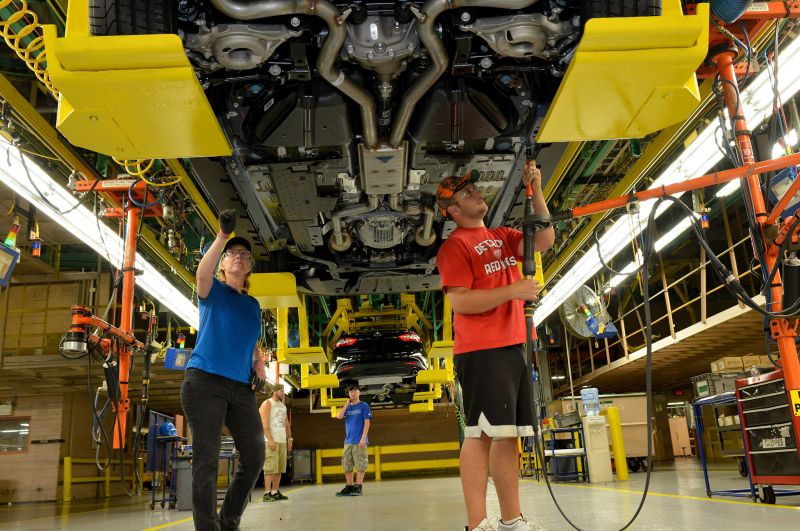 Camarillo, Calif., March 16, 2017 — Snow is in the forecast for 14 CSU Channel Islands (CSUCI) students who will leave sunny Southern California and fly to the chilly Motor City on March 17 with Martin V. Smith School of Business & Economics lecturer John Griffin.
The students, who are primarily business undergraduates with some from other disciplines, will get a closer look at innovation in the auto industry in Detroit, Michigan. After the Big Three (Ford, General Motors and Fiat Chrysler America) pulled out of the near-collapse during the Great Recession, their sights are now set on developing the next generation of automobiles.
"There's a lot of innovation being incorporated into cars, such as the driverless car," Griffin said. "There is a major effort underway to bridge Silicon Valley and Detroit."
Along with visits to the automakers' manufacturing facilities, the students will meet with industry executives to discuss their business strategy, and how a recovering economy, and renewed focus on technology, engineering and design contributed to crisis reinvention of the automobile.
This is the third time Griffin has led a trip to Detroit, the first being in 2012 when the Motor City had just gotten an infusion of federal funds to stay afloat.
The students will be in Detroit from March 17-24, making 15 stops during their visit, including a meeting with selected faculty at the University of Michigan in Ann Arbor, who will discuss their research into auto safety.
It won't be all business, Griffin said. The group will also check out cultural highlights of this iconic industrial city, whose artistic and musical roots run deep.
Around the third week in April, Griffin and the students will discuss their experience during a meeting on campus, which will be open to the public.
Detroit's fall and recovery is something we can all learn from, Griffin said, especially the next generation charged with shaping the future of American industry. Last year, Detroit marked its highest level of car sales ever – 17 million, a testament to how a city with the ability to reinvent itself can surge back from near ruin.
"The nature of our world today is change," Griffin said. "Detroit is a living example of how change can overtake something as big as a city, and if you're not paying attention and you're not adapting to changes in our social and economic environment, you're going to get left behind. You have to retrain, and reinvent."
# # #
About California State University Channel Islands
CSU Channel Islands (CI) is the only four-year, public university in Ventura County and is known for its interdisciplinary, multicultural and international perspectives, and its emphasis on experiential and service learning. CI's strong academic programs focus on business, sciences, liberal studies, teaching credentials, and innovative master's degrees. Students benefit from individual attention, up-to-date technology, and classroom instruction augmented by outstanding faculty research. CI has been designated by the U.S. Department of Education as a Hispanic-Serving Institution and is committed to serving students of all backgrounds from the region and beyond. Connect with and learn more by visiting CI's Social Media.